Gallery

"We love the transformation Limelike has made with our house! It's given it a whole new life! We used Dover White and rolled our bricks with a foam roller and ended up with this beautiful timeless look! Thank you!!!"
Laura, Katy, Texas, USA.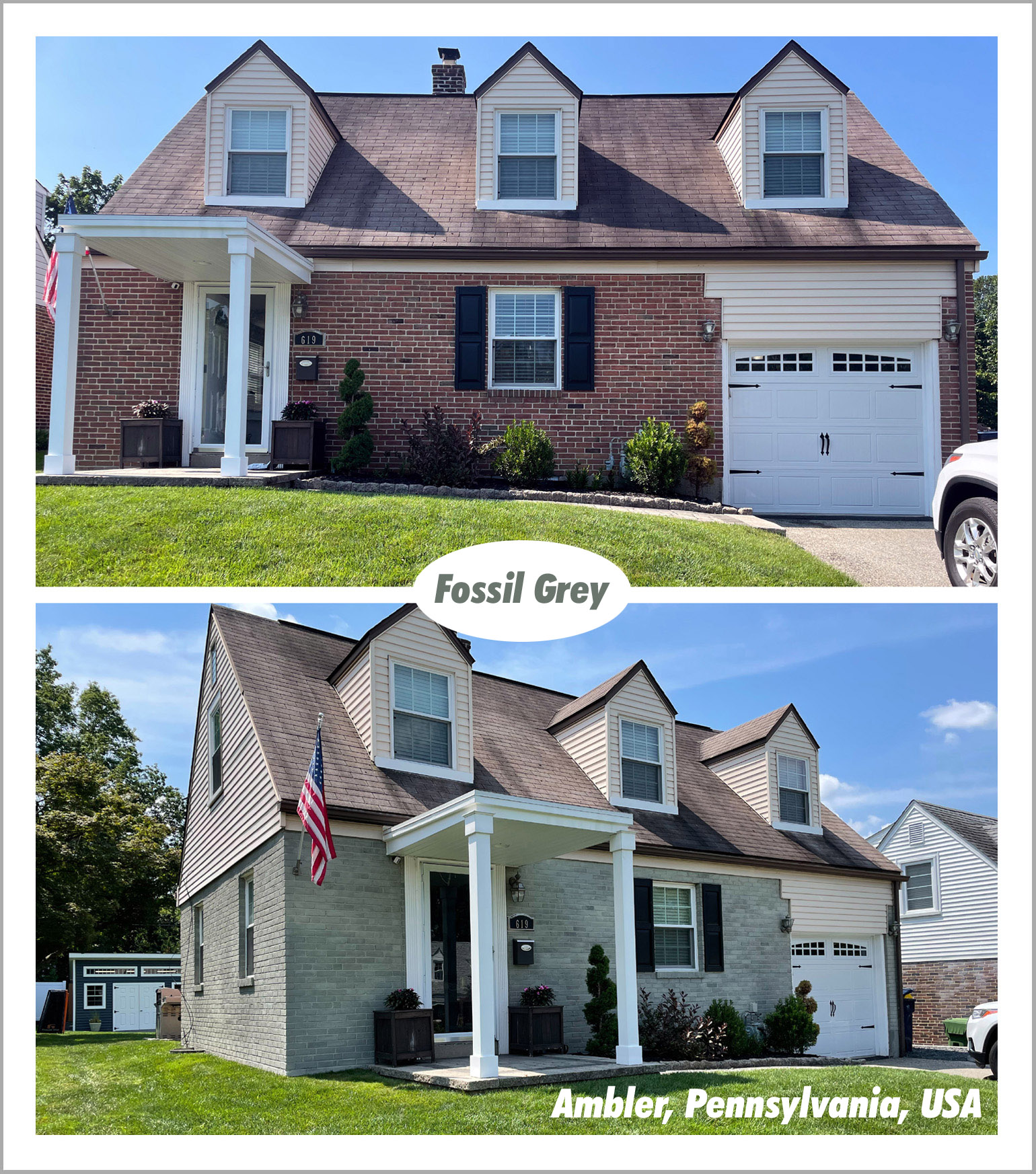 "I finished and everything looks great. I will be replacing the roof and siding next. The product is awesome. I was able to use fossil gray and some of the dark bricks did show through and we love it. We have gotten many compliments. I have attached some before and after pictures but will definitely send more when we get the roofing and siding completed. "
Justin, Ambler, Pennsylvania, USA.
"I just wanted to let you know how much I love your product. I found you online and was so happy to have the solution to make my ugly-to-me bricks look as though they have always been a different color! All it took was 2 buckets of LimeLike in Dark Ash max. diluted and about 45 hours of my free time. So in love with my house now. I wrote a post on my (German) blog about the process https://heim-elich.de/2020/08/neue-farbe-klinker/ and about the results https://heim-elich.de/2020/09/graue-klinker/ "
Jenn, Kiel, Schleswig-Holstein, Germany.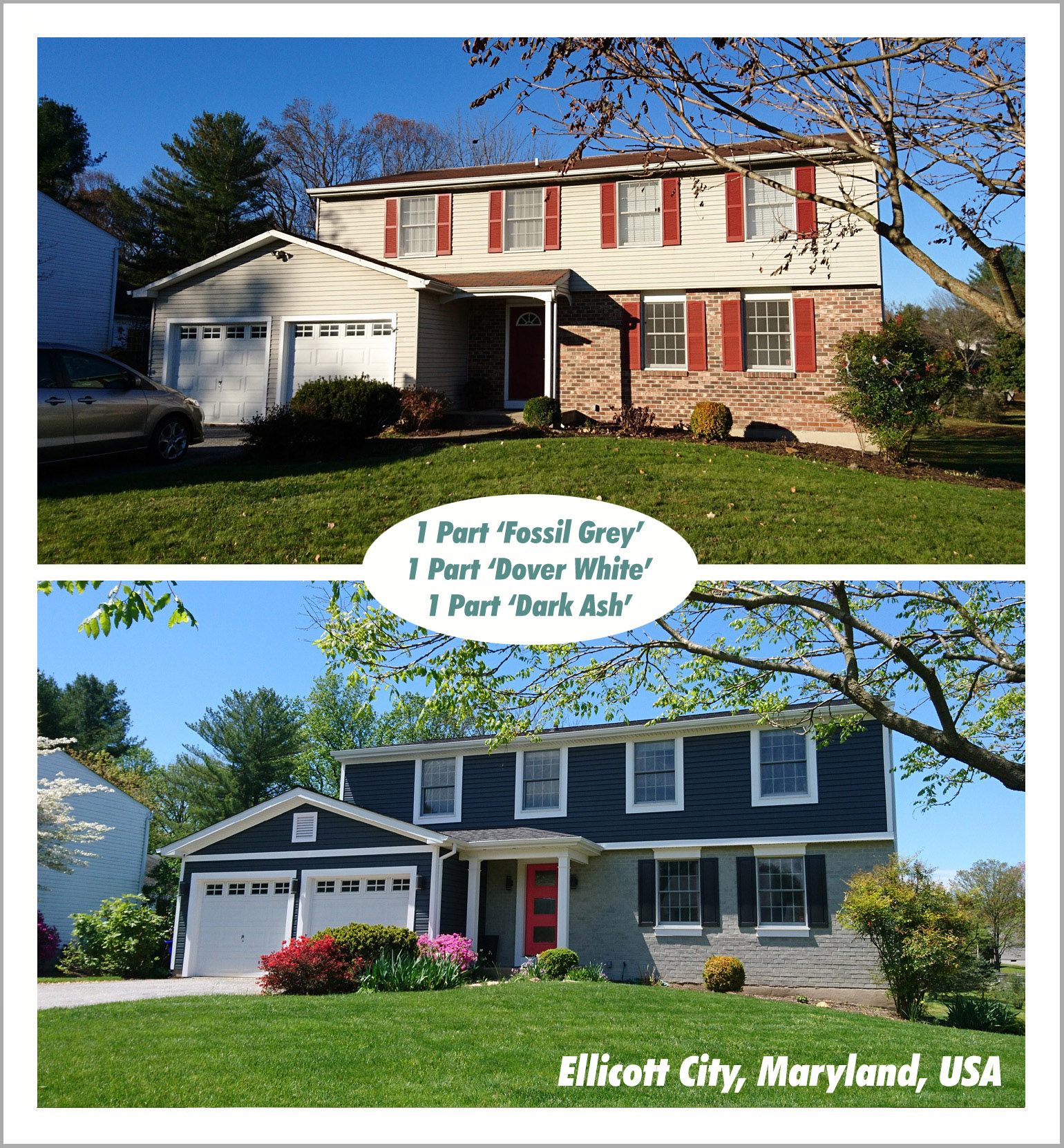 "Your LimeLike product was an integral component to transforming our 1980 colonial home in Ellicott City, Maryland into what we're calling "Late-Century Modern". The color samples and a number of test brick (from sills that were being replaced) were extremely helpful. We settled on equal parts Fossil Gray, Dover White, and Dark Ash to get the color we wanted. We made a slightly-thin mix (25% more water than usual) to retain some of the original color variation. Applying LimeLike was easier than painting, and was greatly-simplified (understatement) once we decided to use the same color for the mortar as the brick. Doing so otherwise would have been quite tedious to avoid an overloaded brush to run down onto the mortar below. Thanks for making a great product and providing the help we needed to achieve this incredible transformation."
Chris & Ann Marie, Ellicott City, Maryland, USA.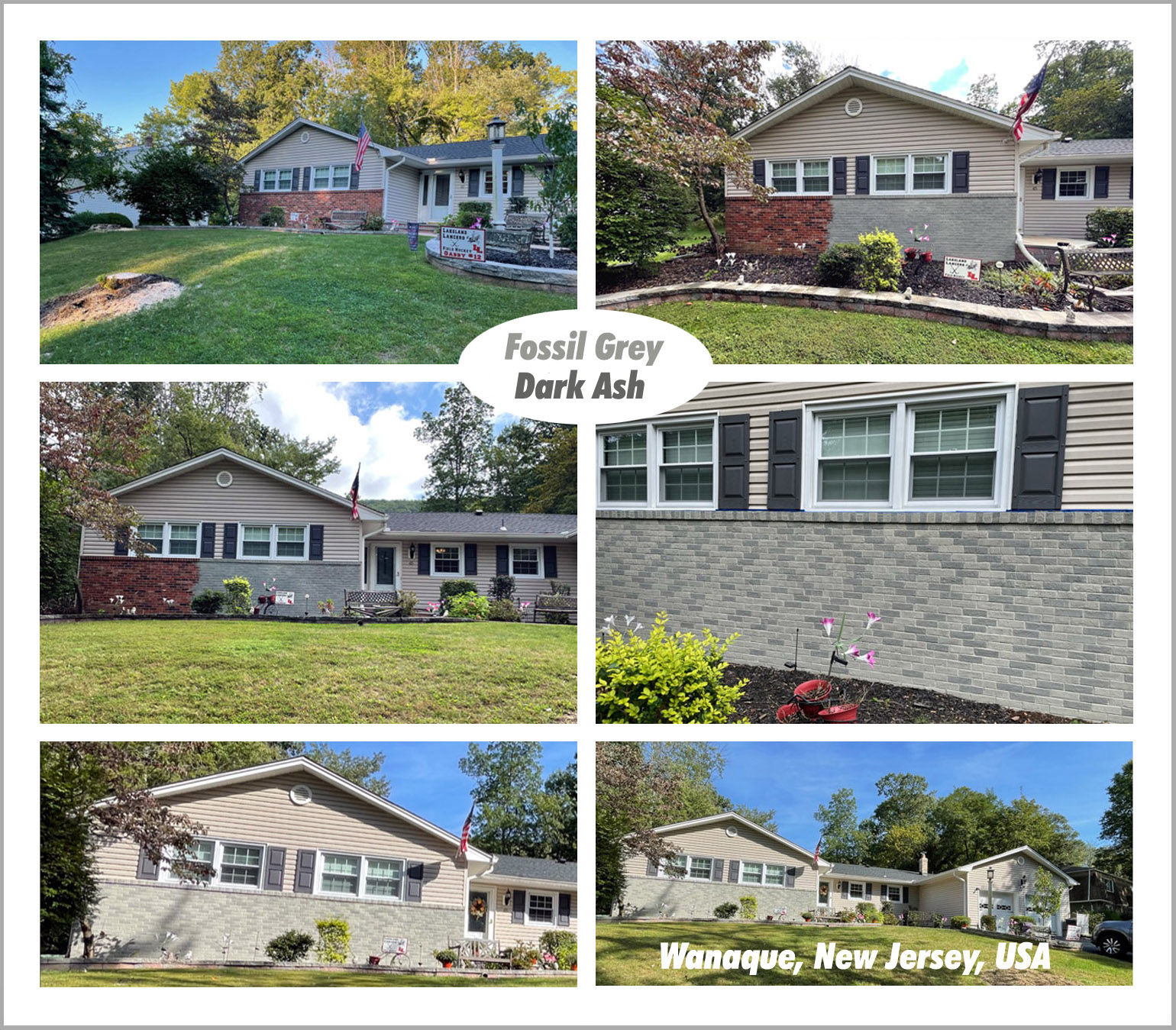 "Here are some pictures using the Fossil Gray as a base and Dark Ash as the highlights. I did blend some slight Charcoal tones using Dyebrick Charcoal too. I have had neighbors stop by thinking I re-bricked vs the dye. So easy to do, great product!"
Christopher, Wanaque, New Jersey, USA.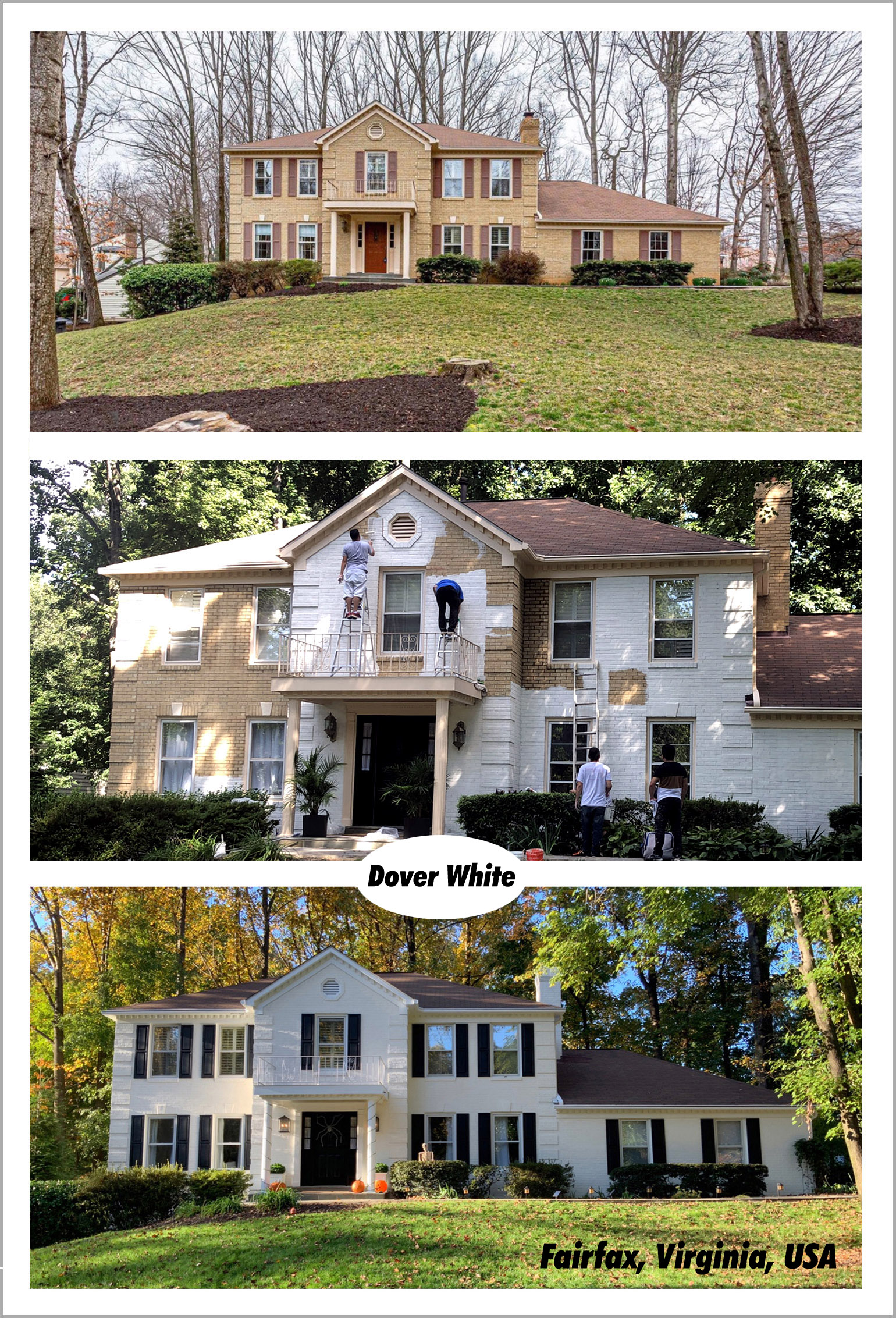 "LimeLike really has held up well over the harsh winter and lots of rain. The product is fantastic...really happy with the result!!"
Cliff, Fairfax, Virginia, USA.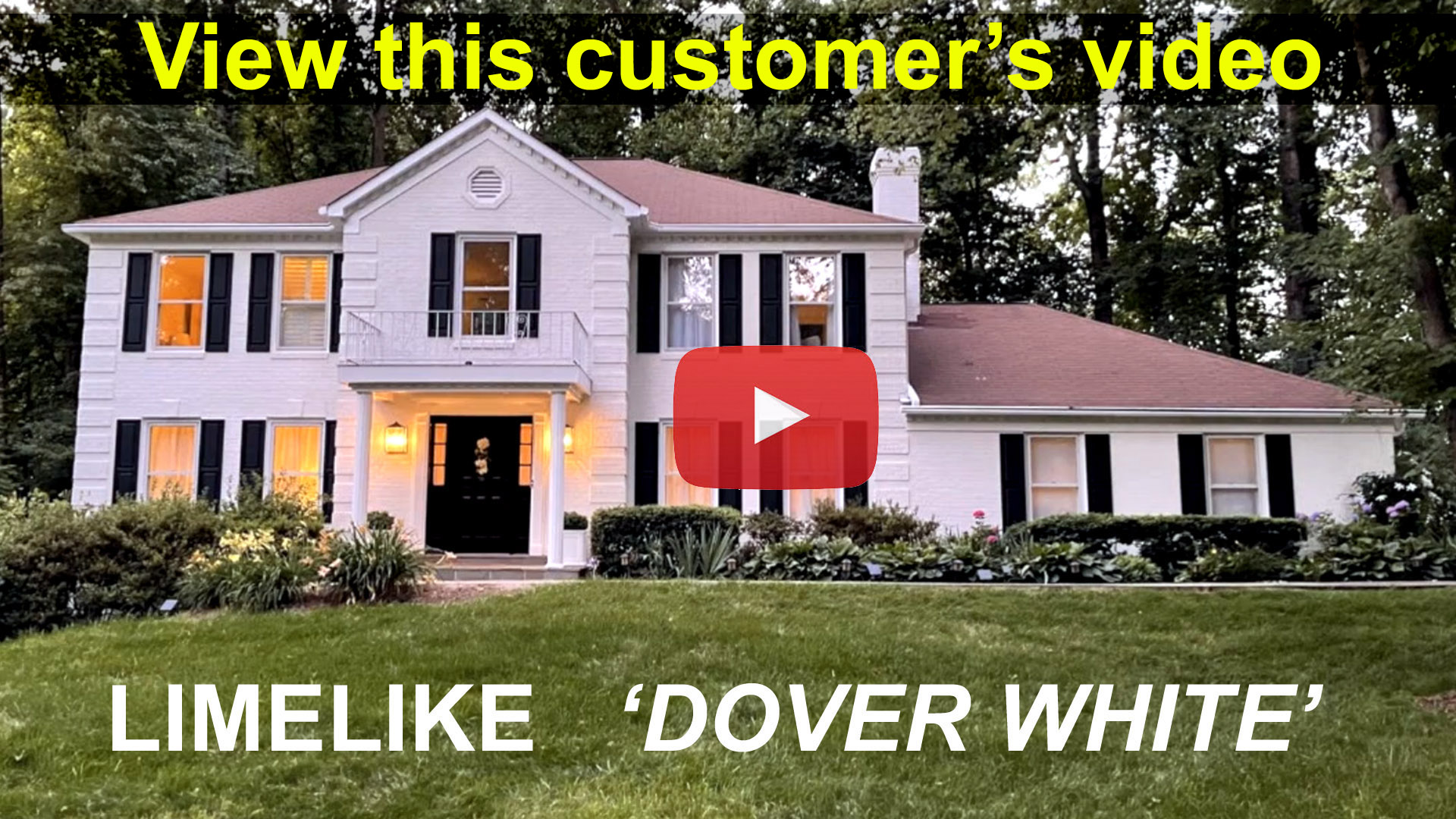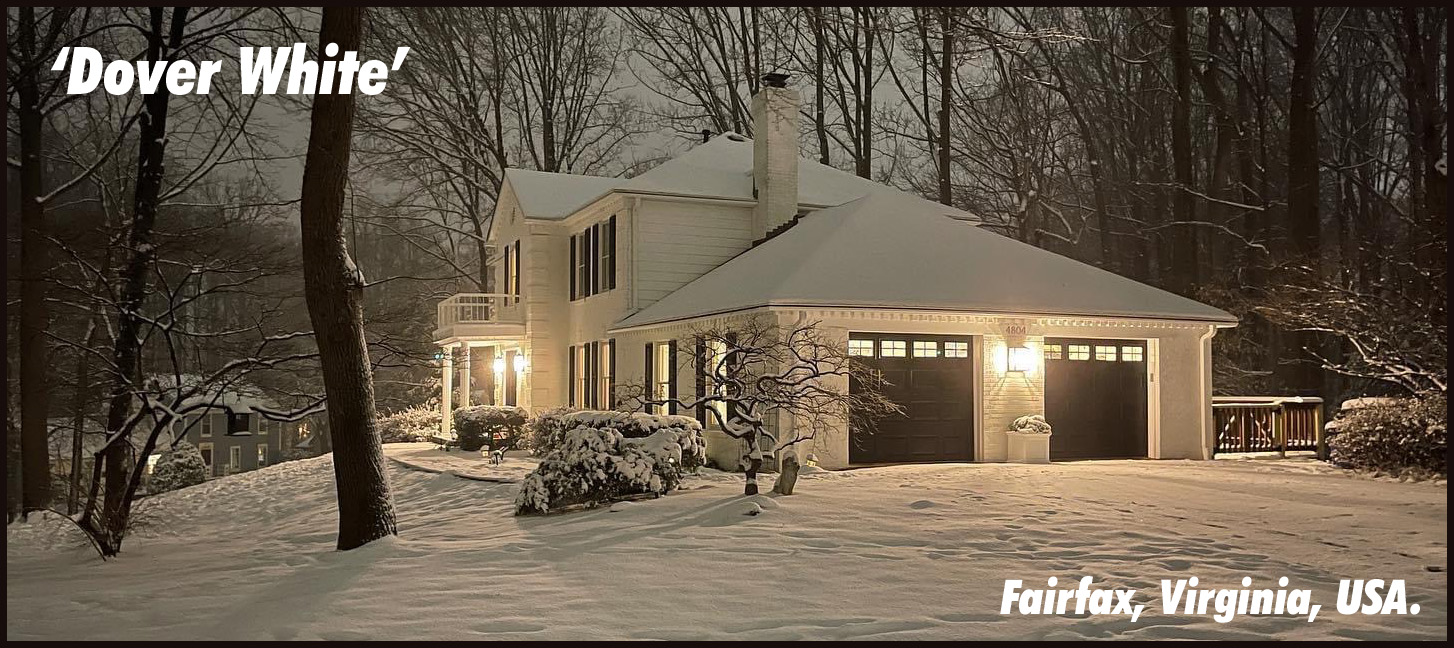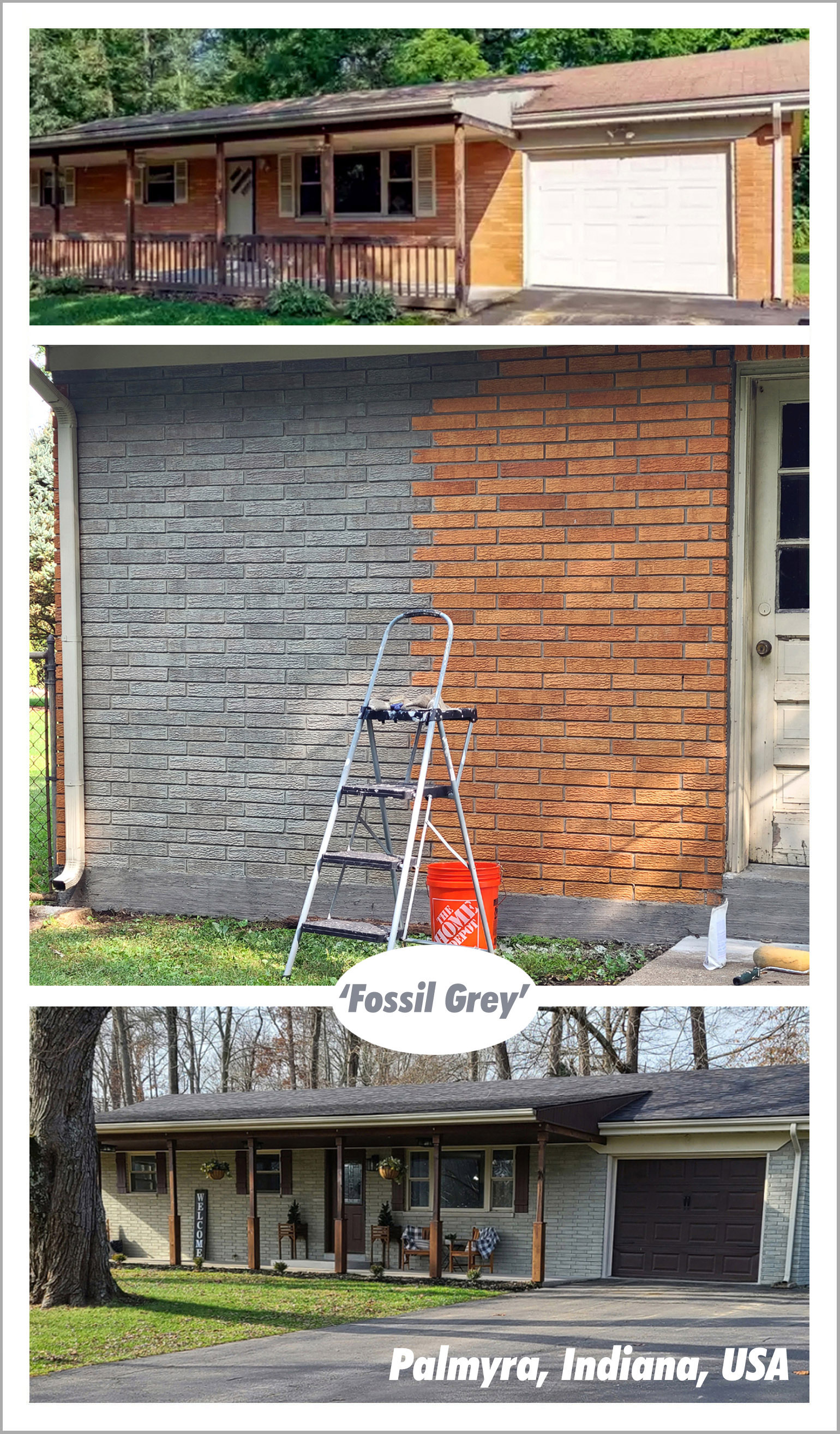 " You helped me with my order in September. I "flip" houses in Southern Indiana and I ordered the fossil grey for this house which was orange. It looks amazing! So many compliments and so much interest in your product! I will definitely use it again. Thank you for your help "
Kristine, Palmyra, Indiana, USA.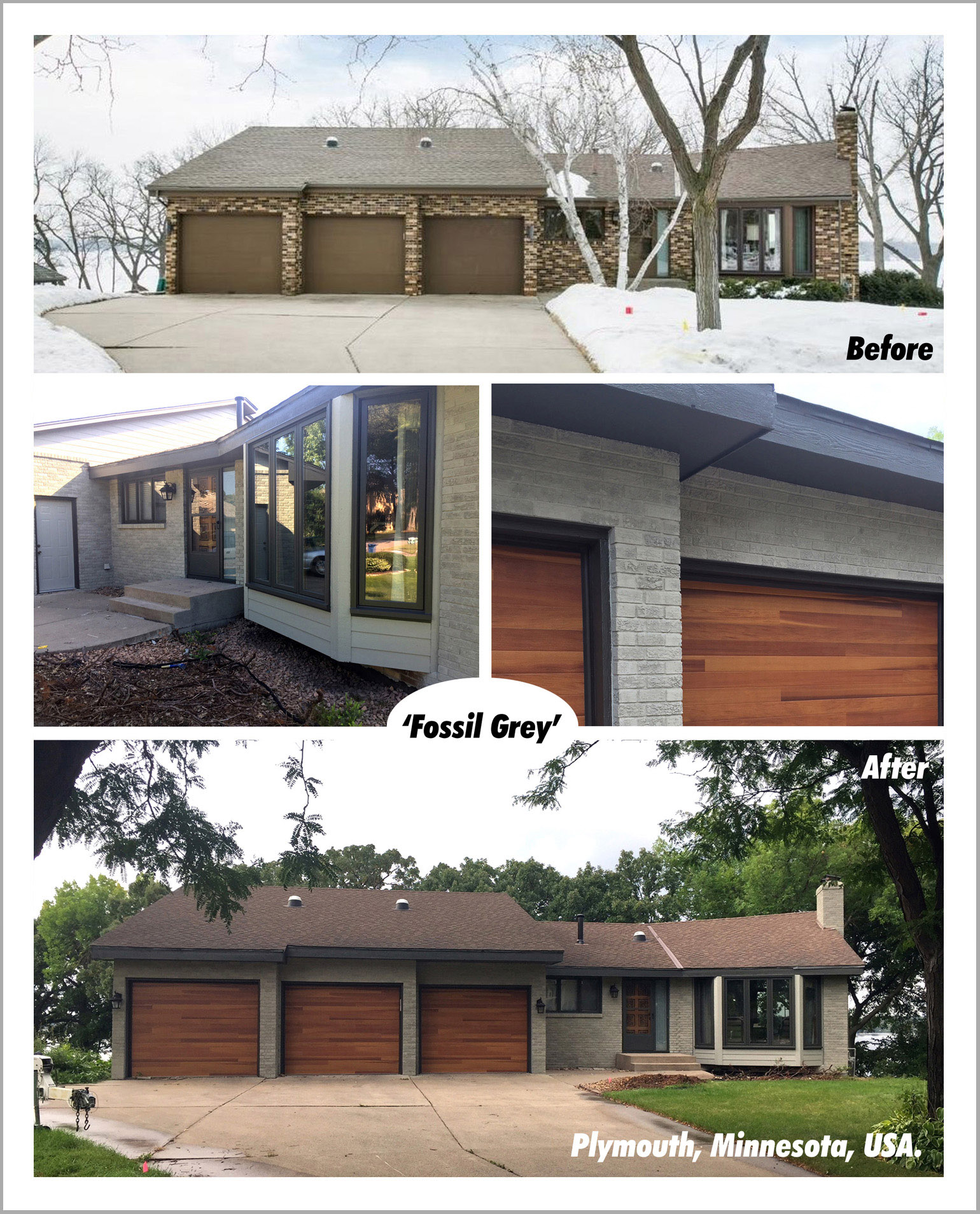 "LimeLike Fossil Gray looks amazing on our home. Our neighbors are in love and so are we!
We live in MN with warm humid summers and harsh winters. Prior to starting our project, we hired a mason to repair some mortar/tuck pointing. He said 90% of his service work is repairing painted (sealed) brick that is deteriorating, not a good option in our climate. We are so happy to find your LimeLike product that allows our brick to breathe and completely transformed our home that we purchased one year ago (2017)."
Curt & Robyn, Plymouth, Minnesota, USA.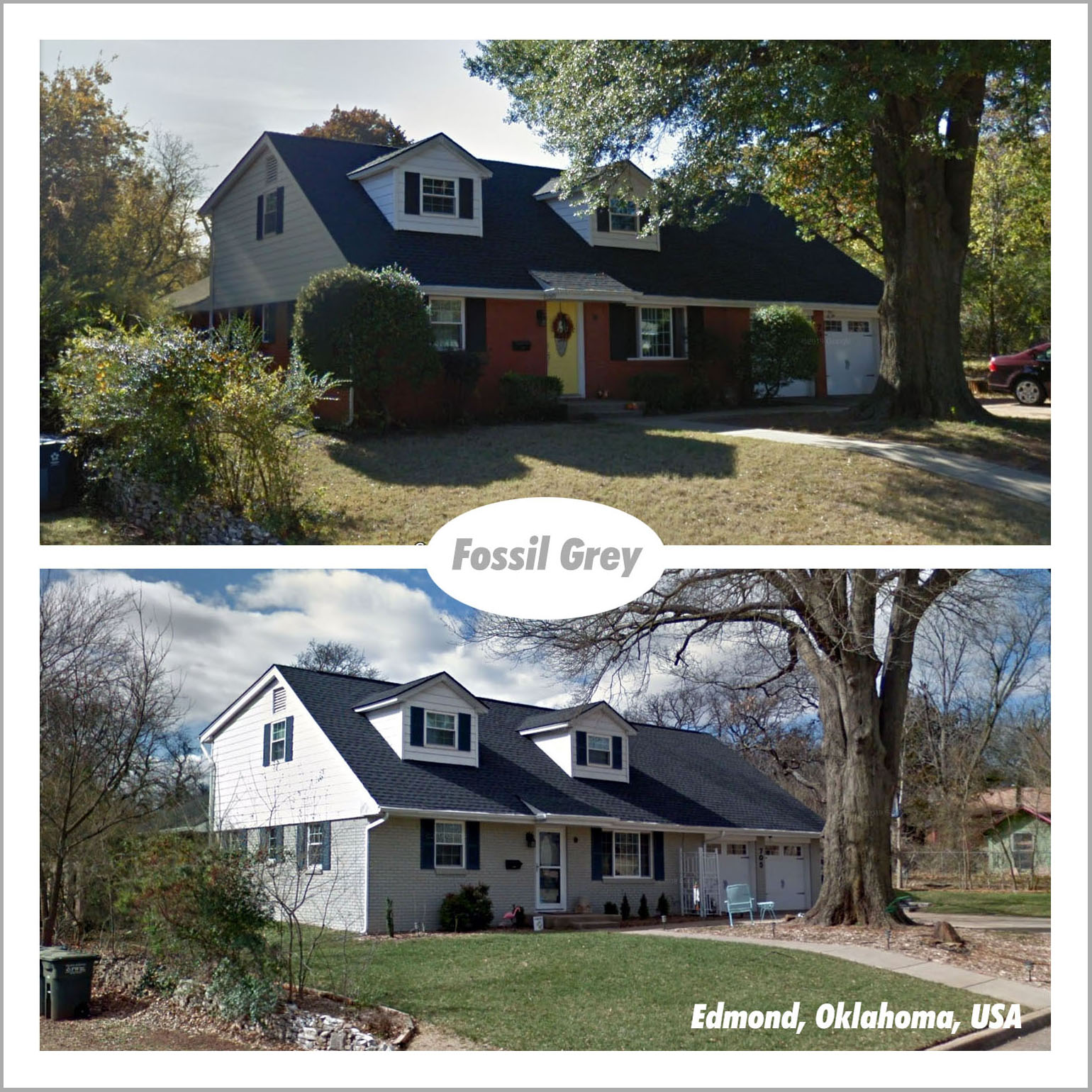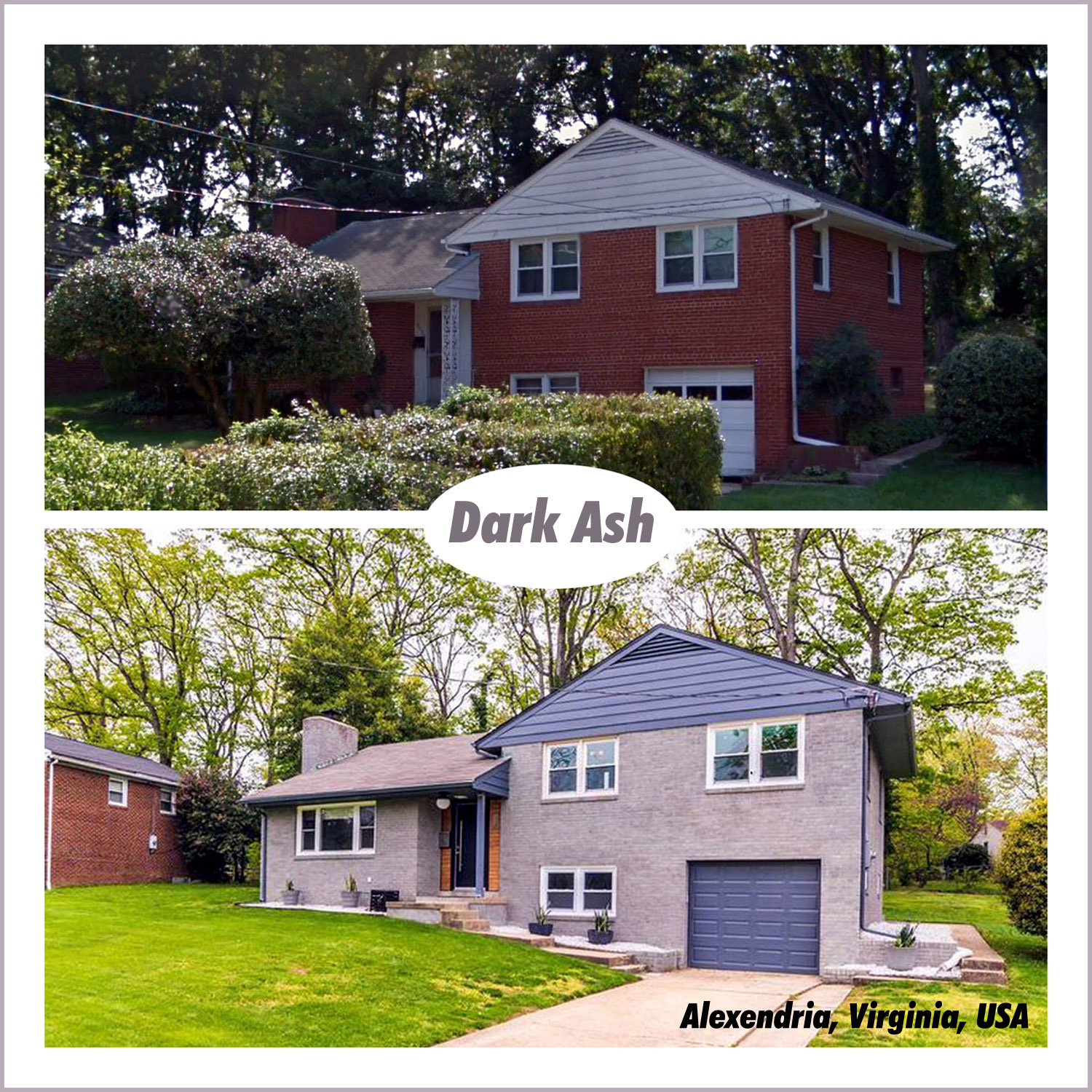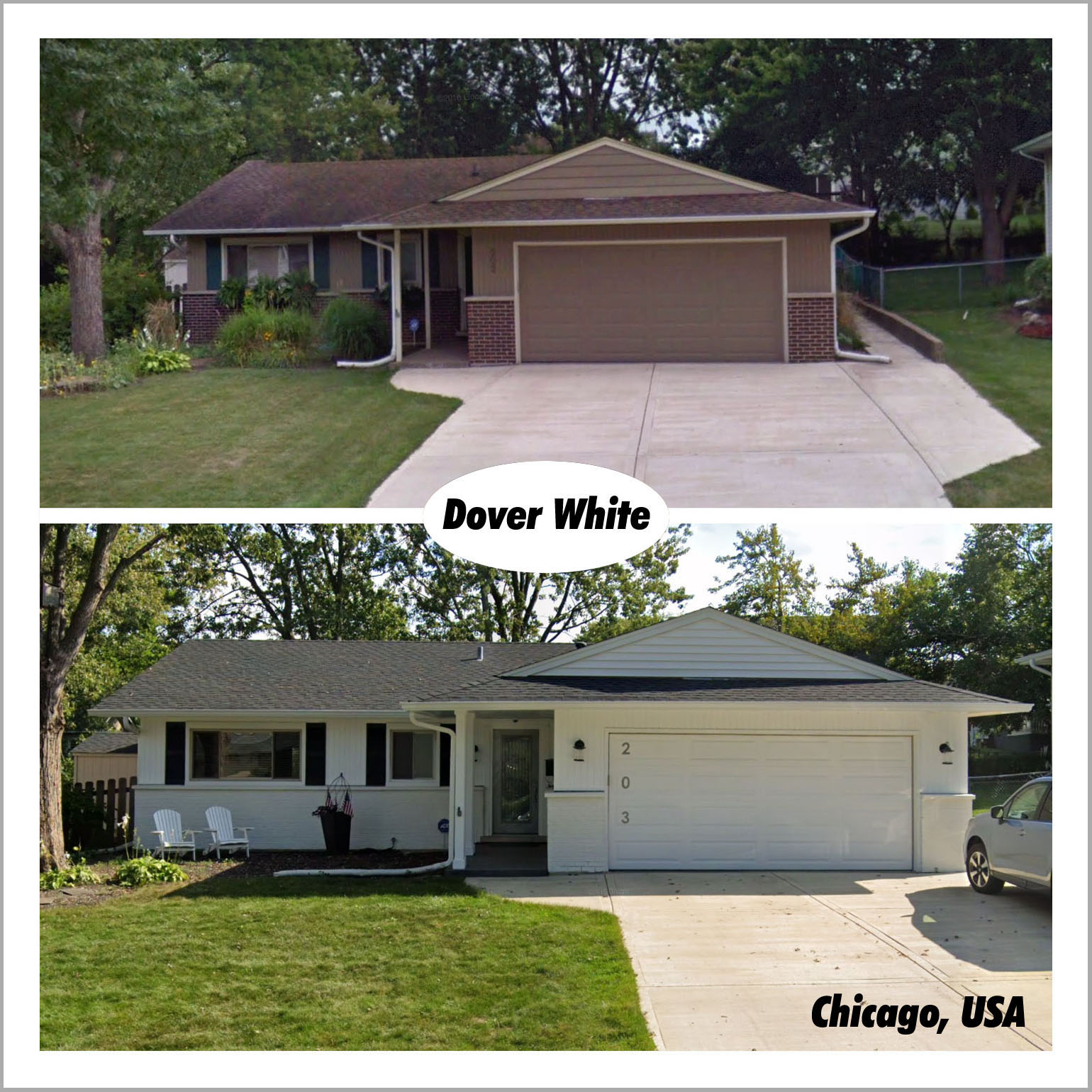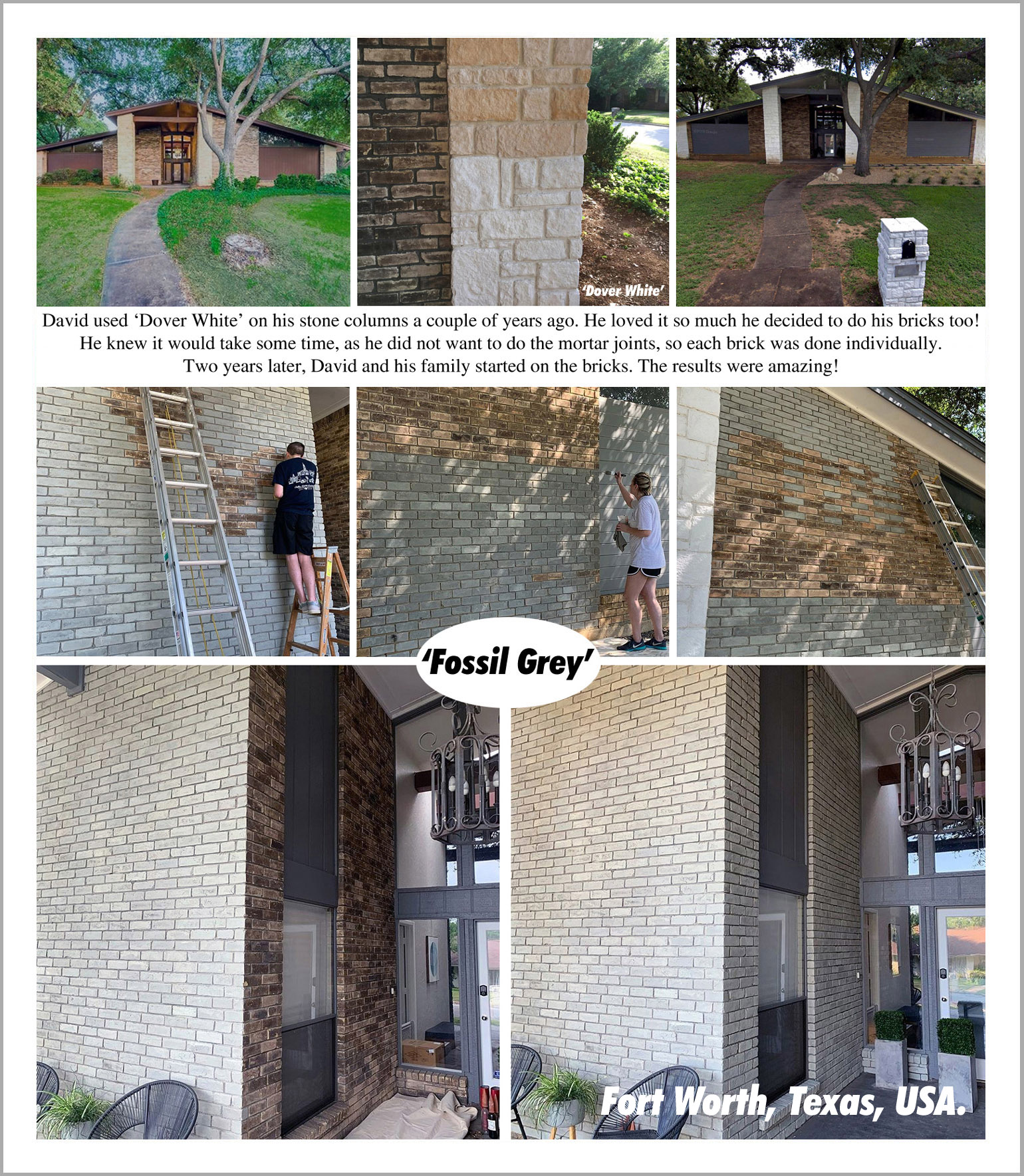 "Here's the solution to our brick dilemma... LimeLike. This is the same product we used on our stone columns but in Fossil Grey. This absorbs into the brick so it really looks like it's the brick's original color. It lets the bricks original tones come through so it's not so monochromatic (depending on how you mix it). I bought a sample of this color 2 years ago but the thought of staining my house one brick at a time kept me from rushing ahead. I didn't want it in my mortar joints so you have to work slowly. Well we are amazed at how awesome it looks. We love it! In a week we've covered about half our house."
David, Fort Worth, Texas.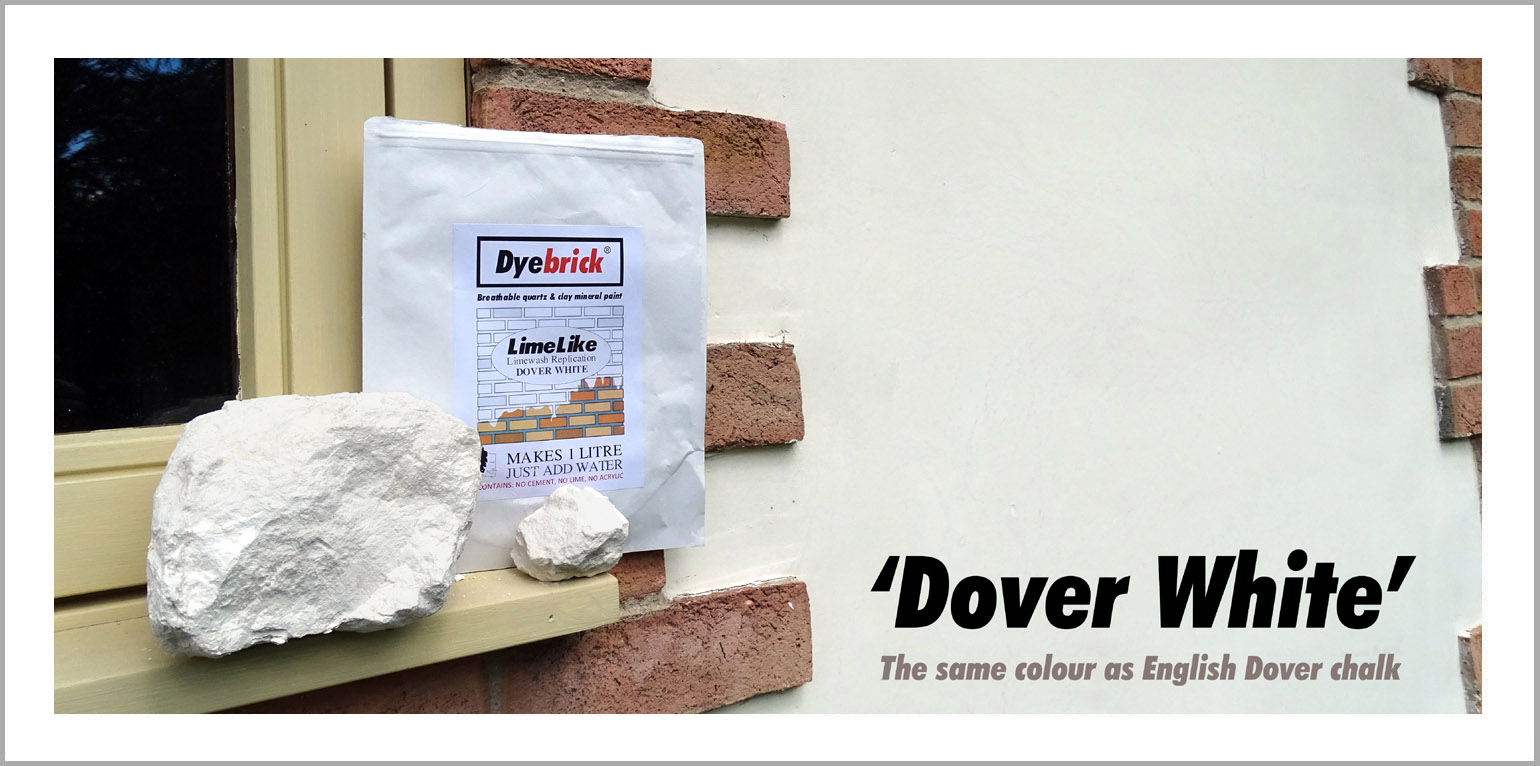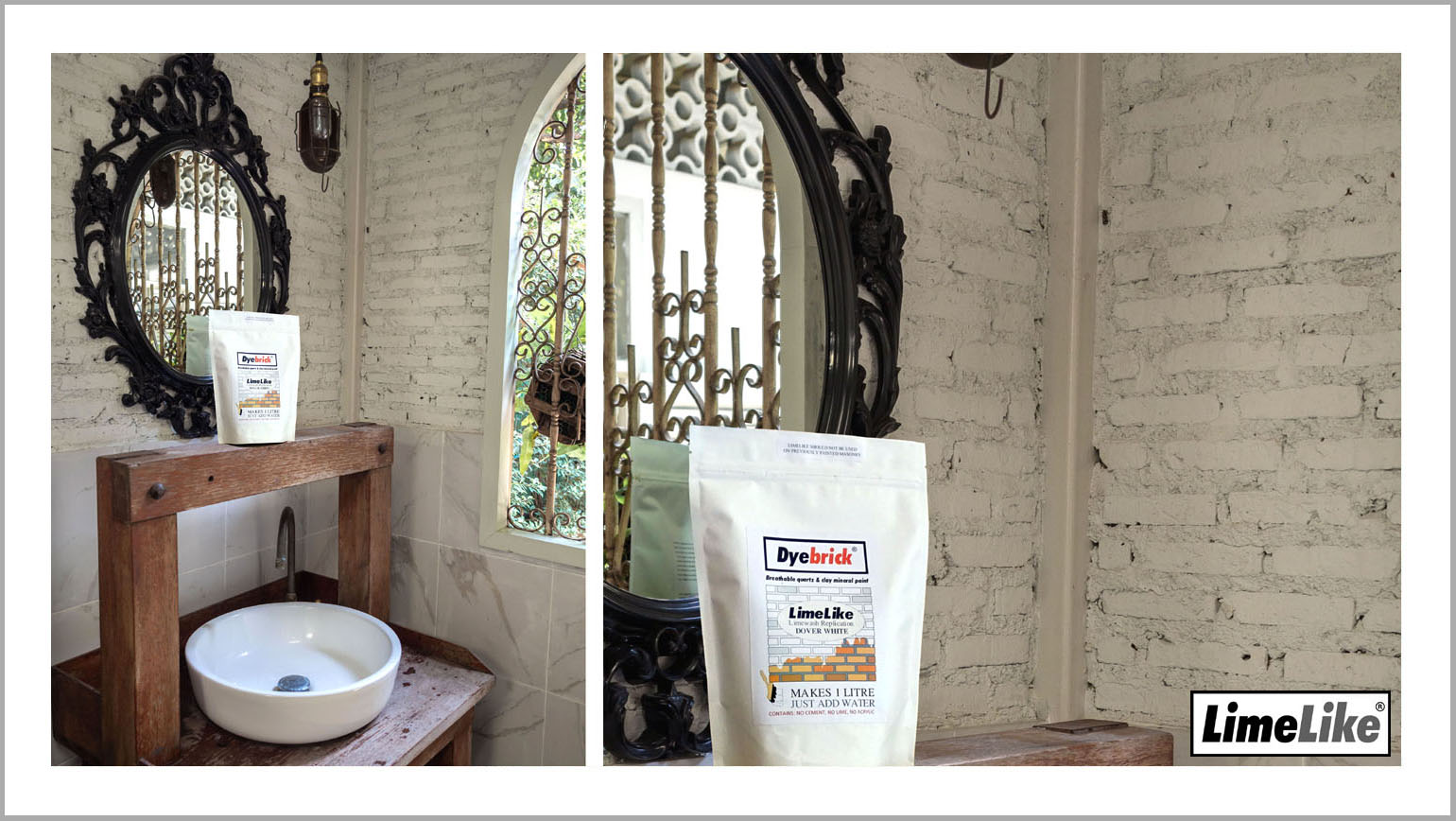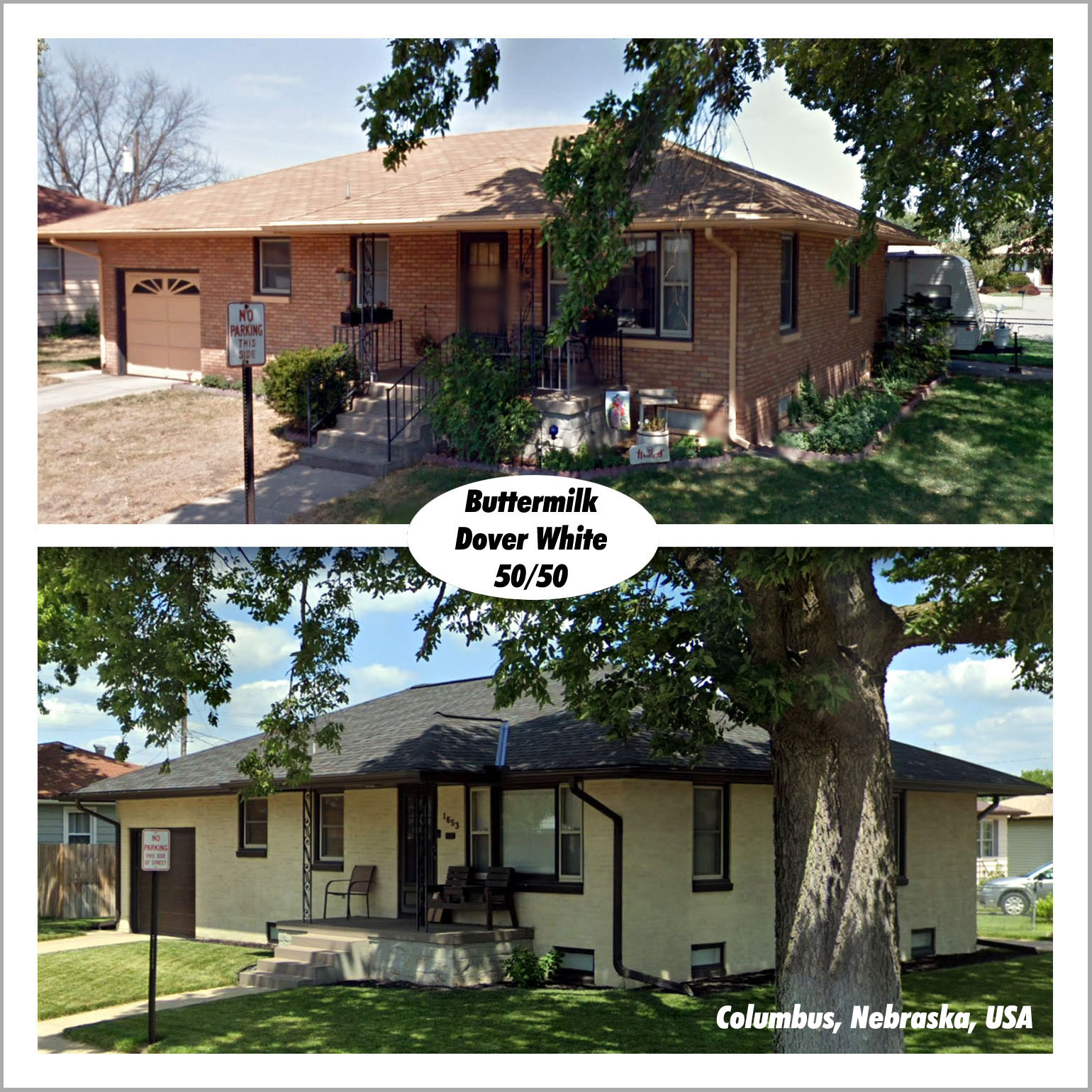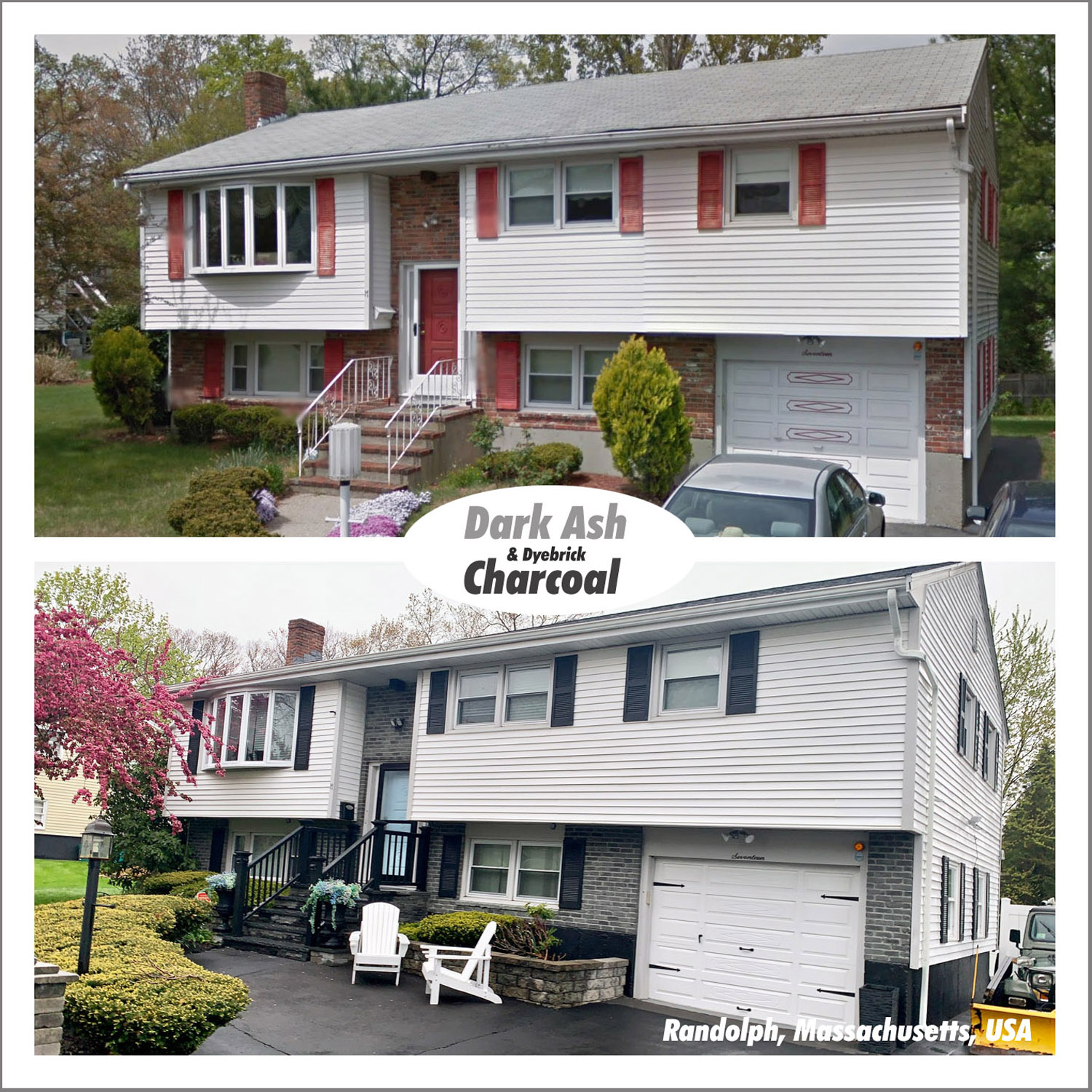 "Thank you so much. I was skeptical at first but I got to tell you your product is AMAZING!"
Joao, Randolph, Massachusetts, USA.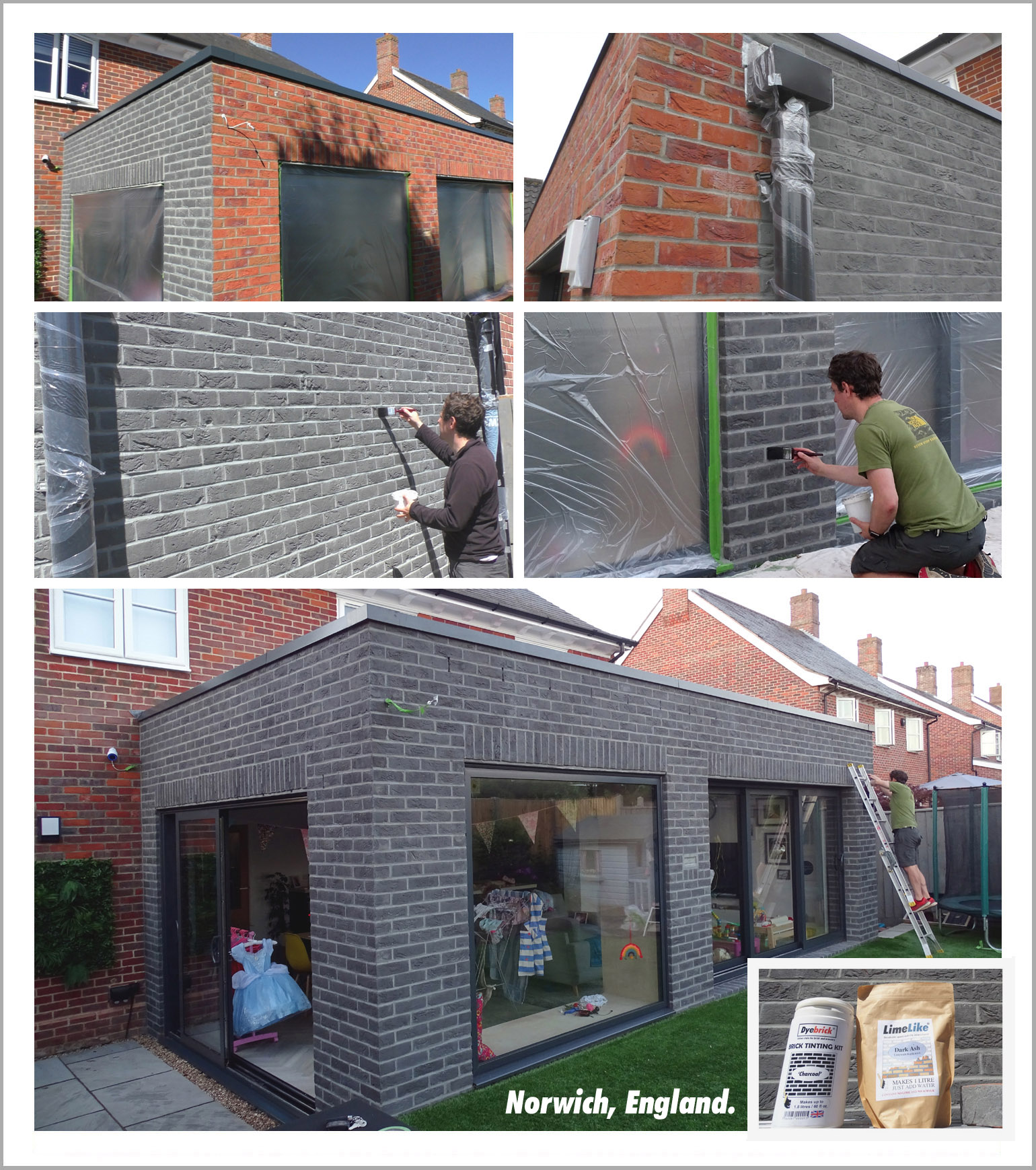 "An incredible finish achieved with your products (LimeLike 'Dark Ash' & Dyebrick 'Charcoal'). It's even better than our vision!"
Tom & Lisa, Norwich, Norfolk, England.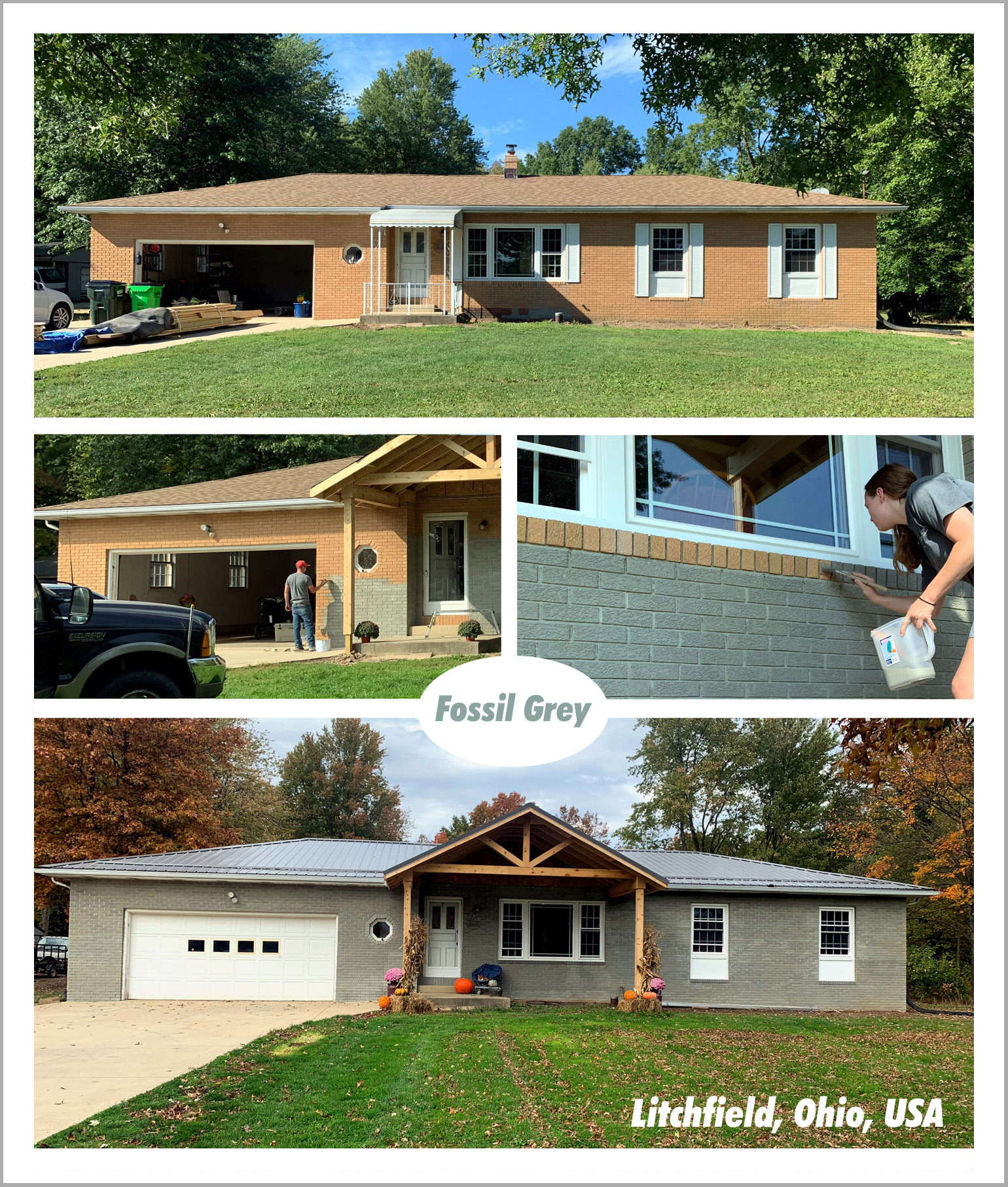 "I would love to share pictures of my project with you, I'm really loving the transformation and the product."
Ciara, Litchfield, Ohio, USA.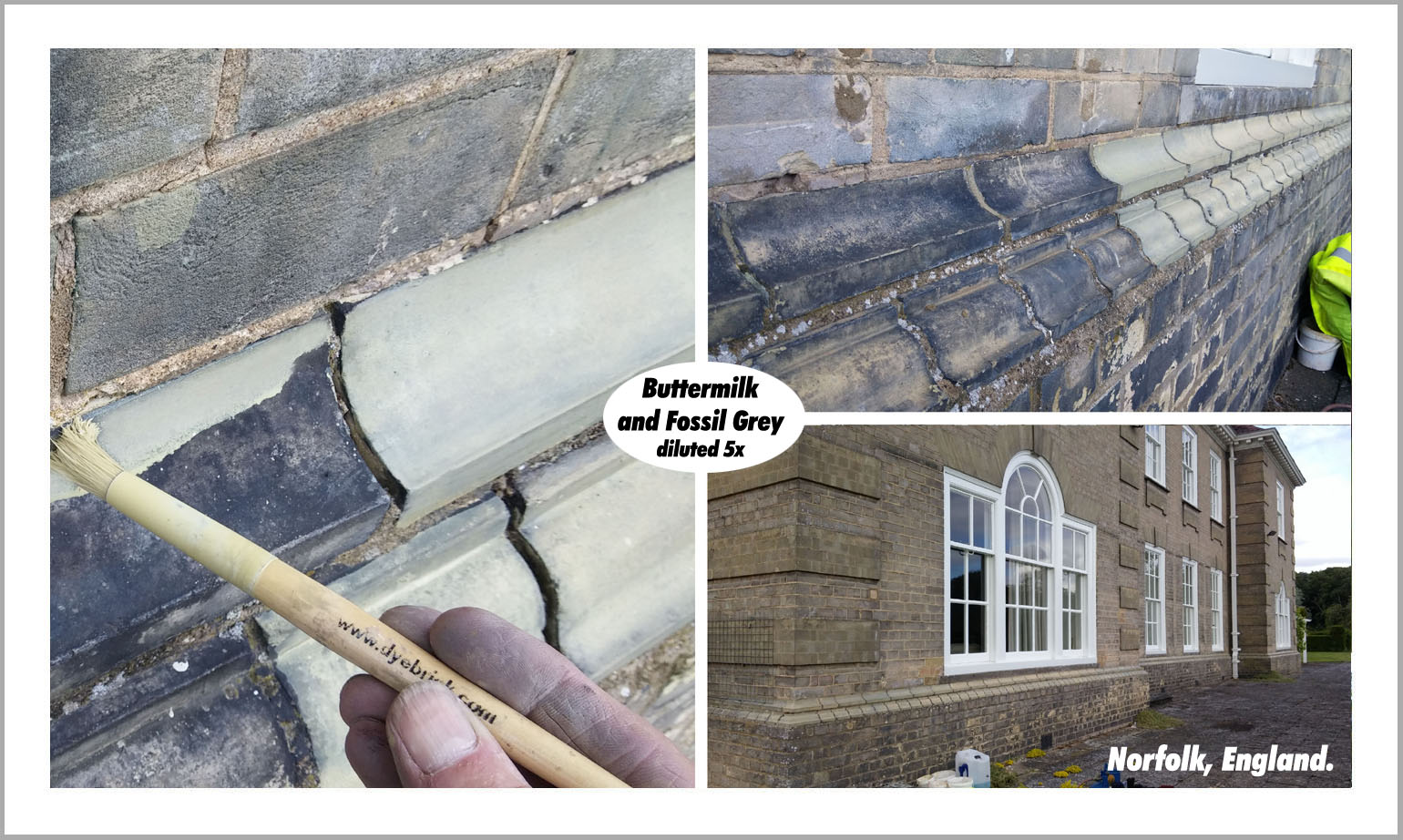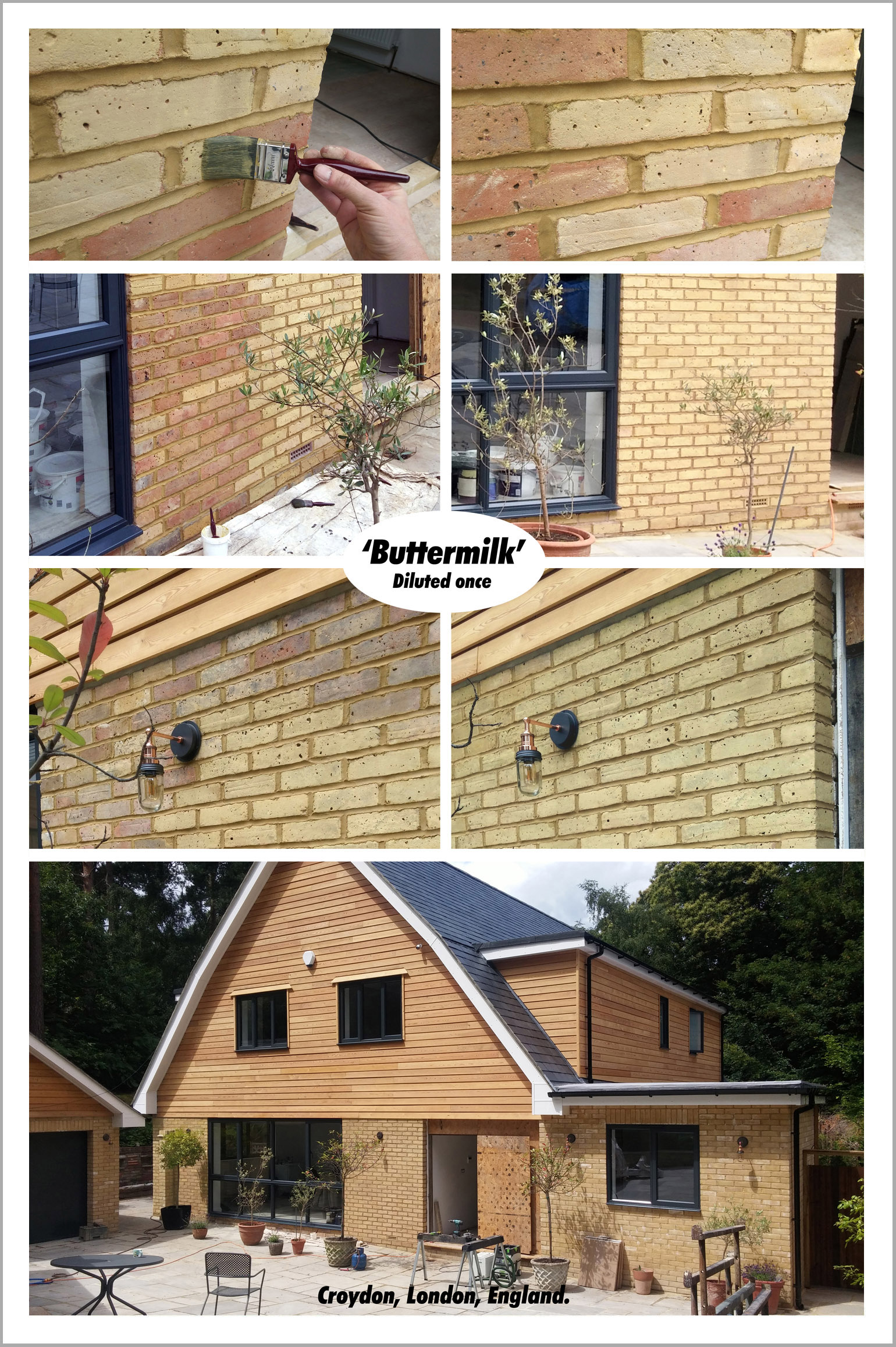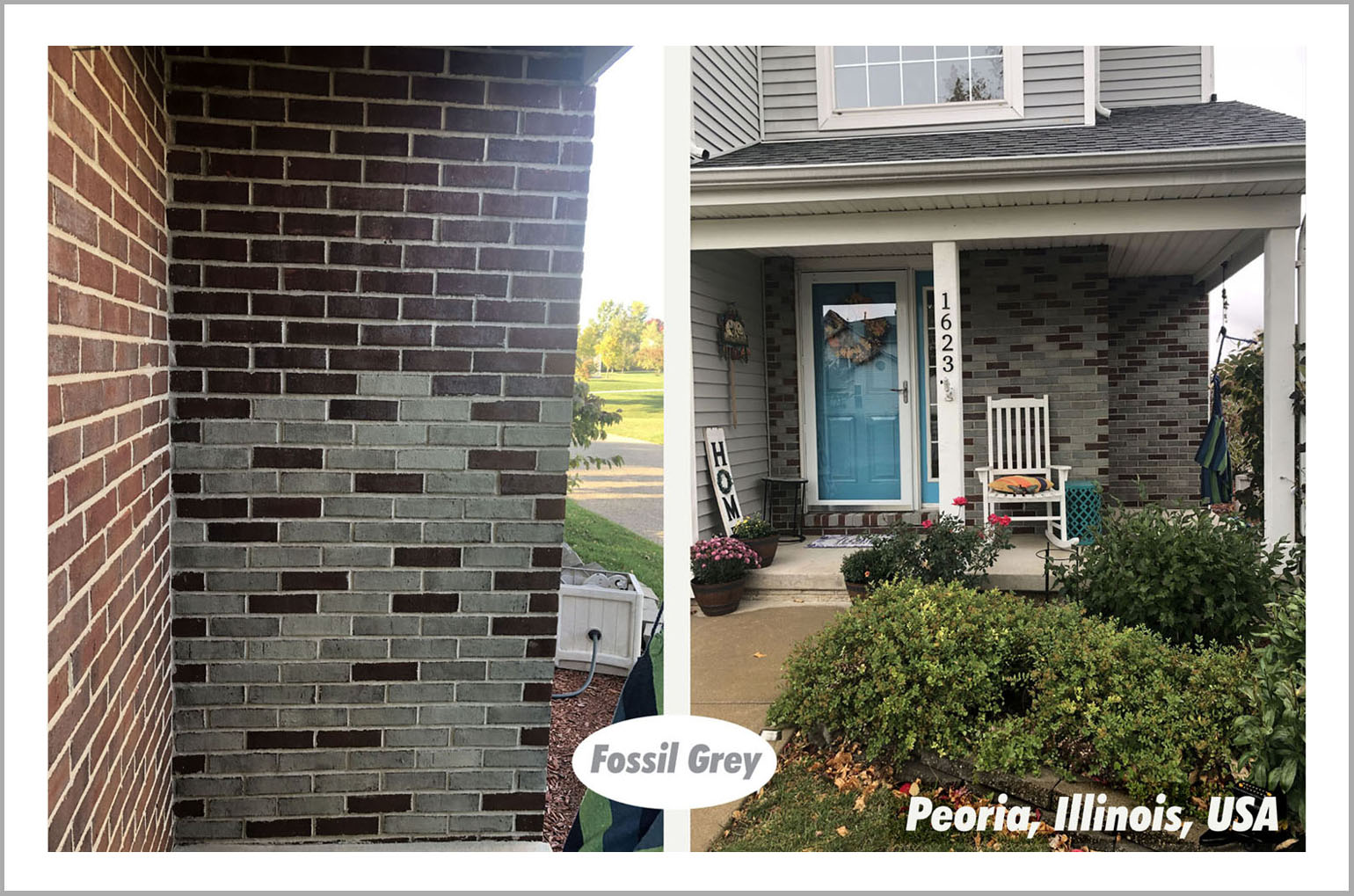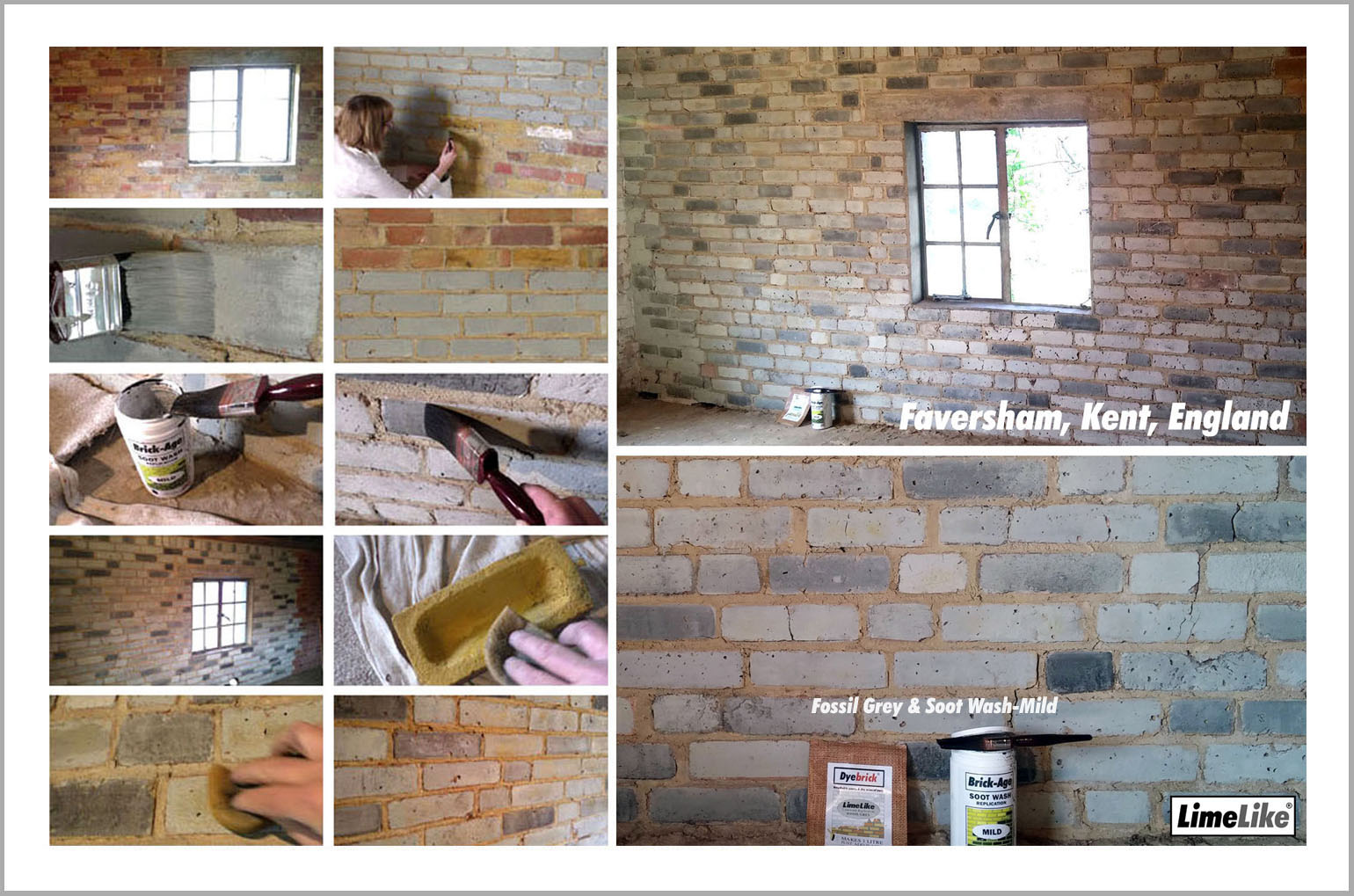 "So easy to apply, with no odour and a real natural chalk-like finish. I am so happy with how my art studio is progressing with your products!"
Diana, Faversham, Kent, England.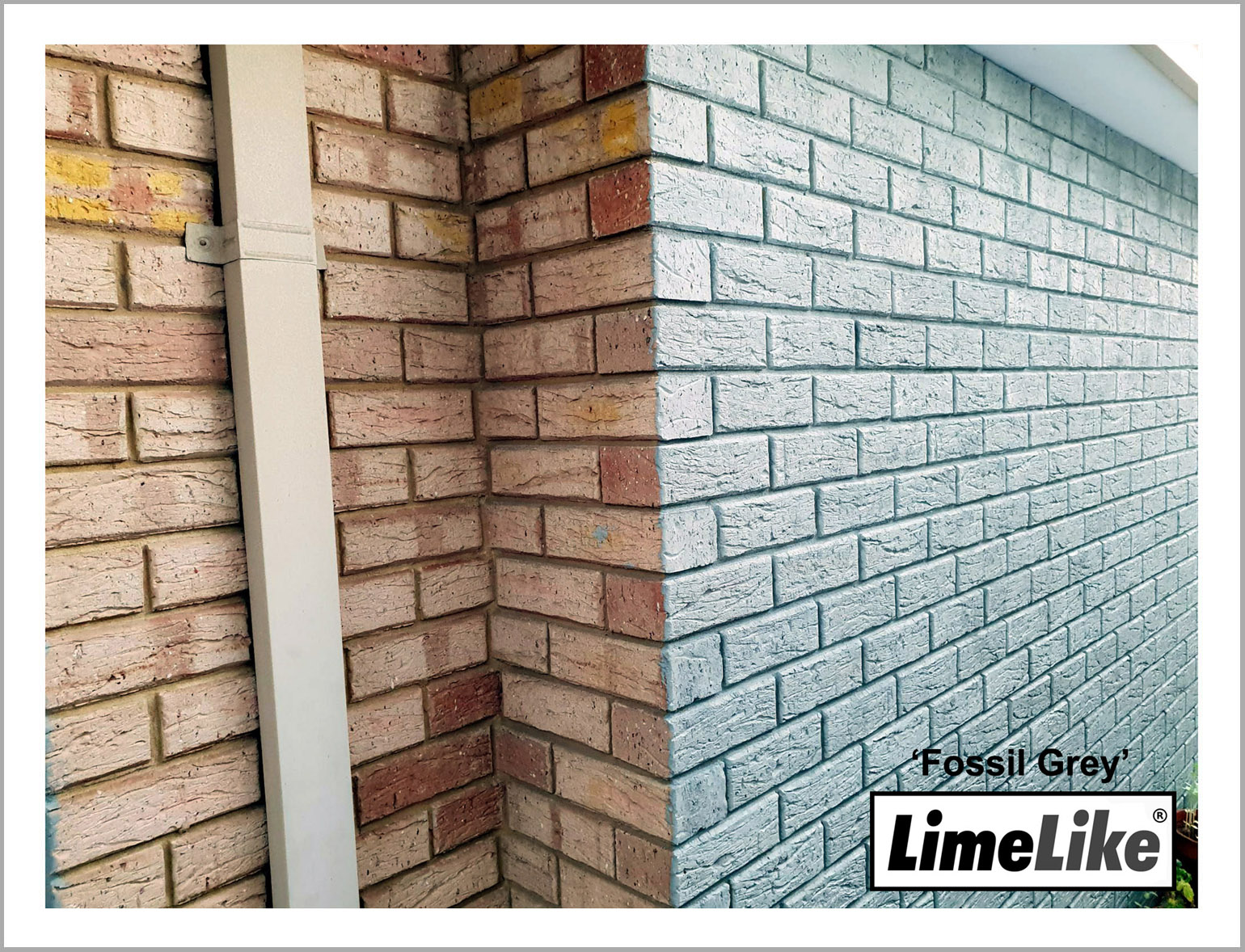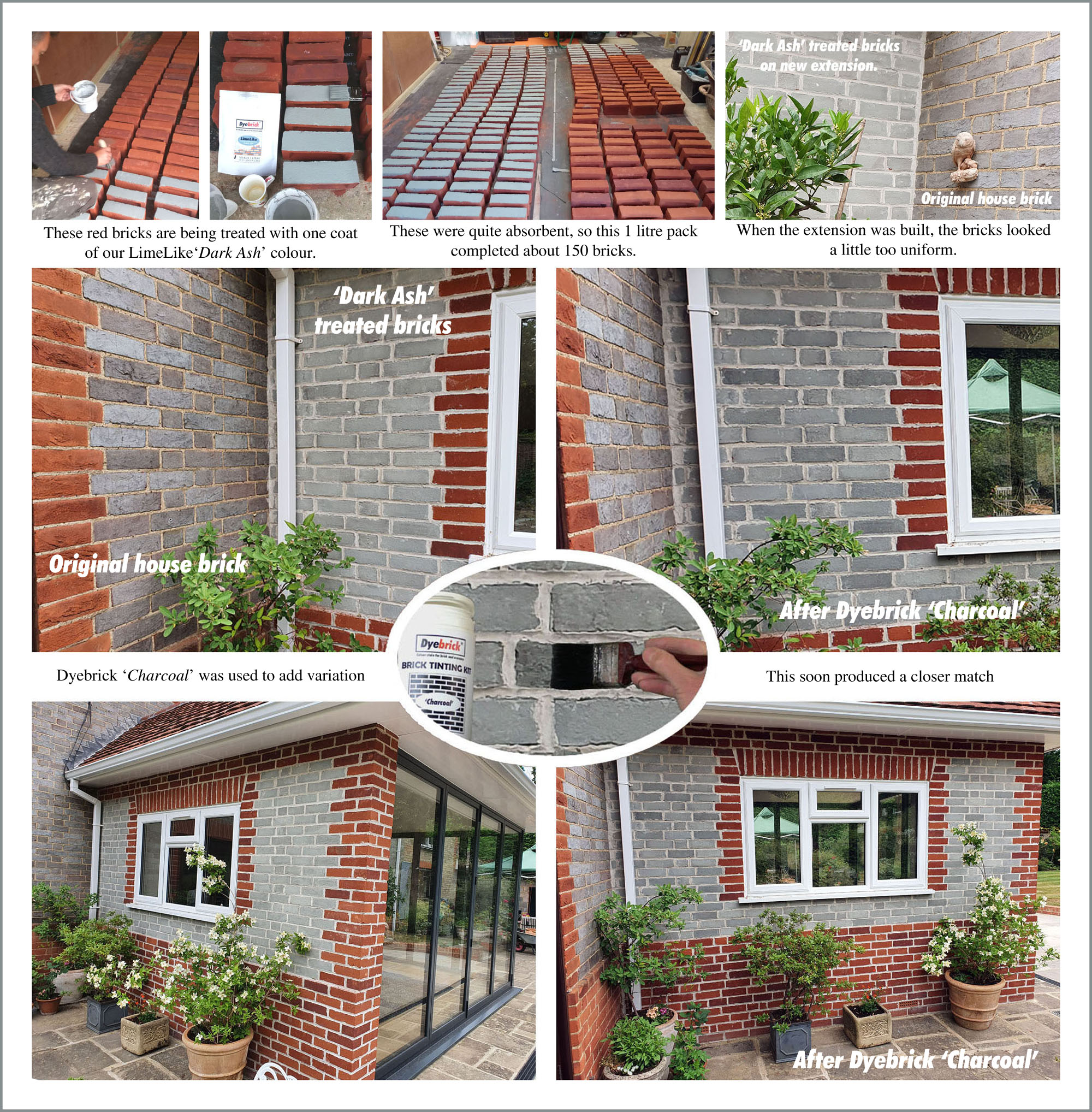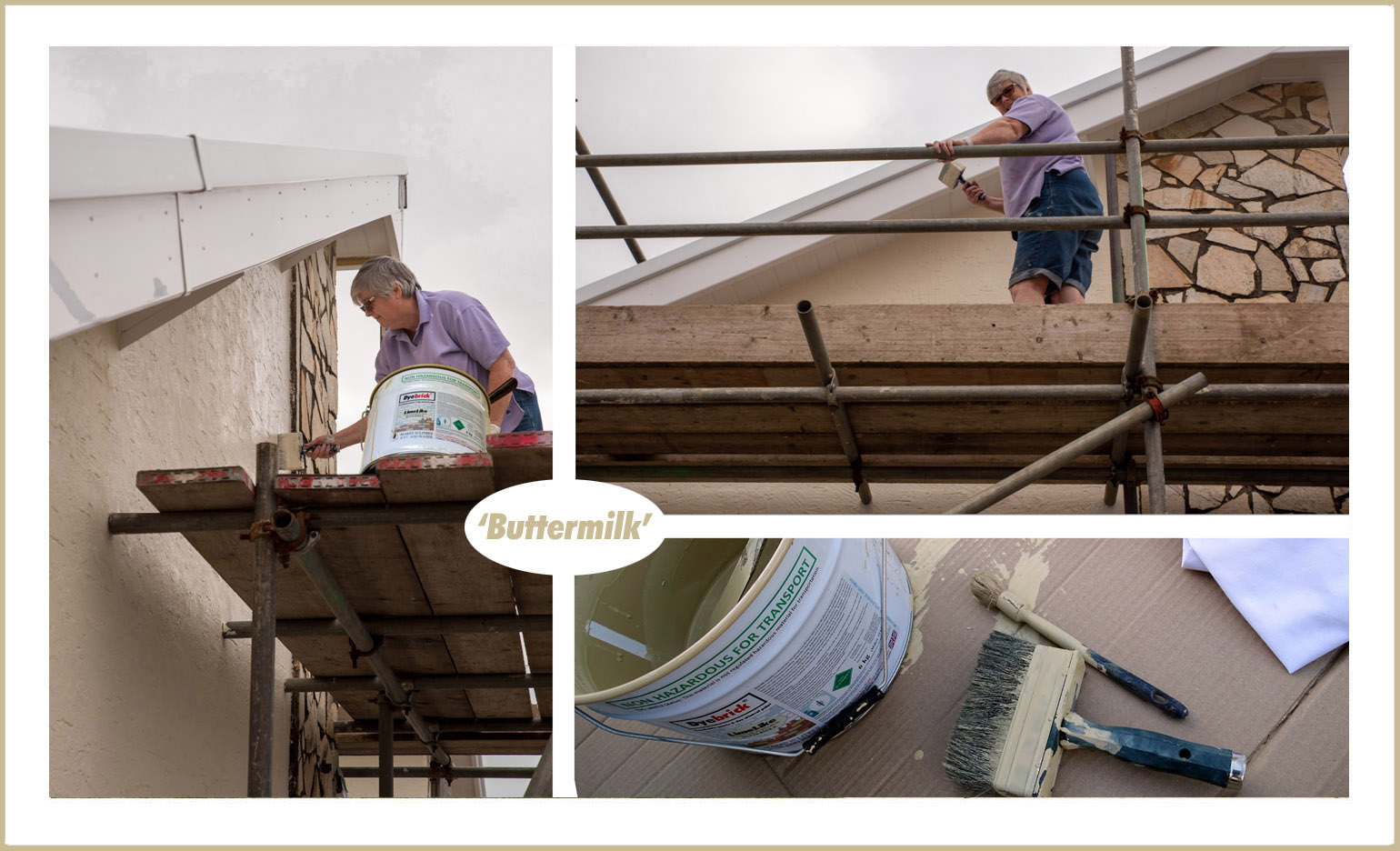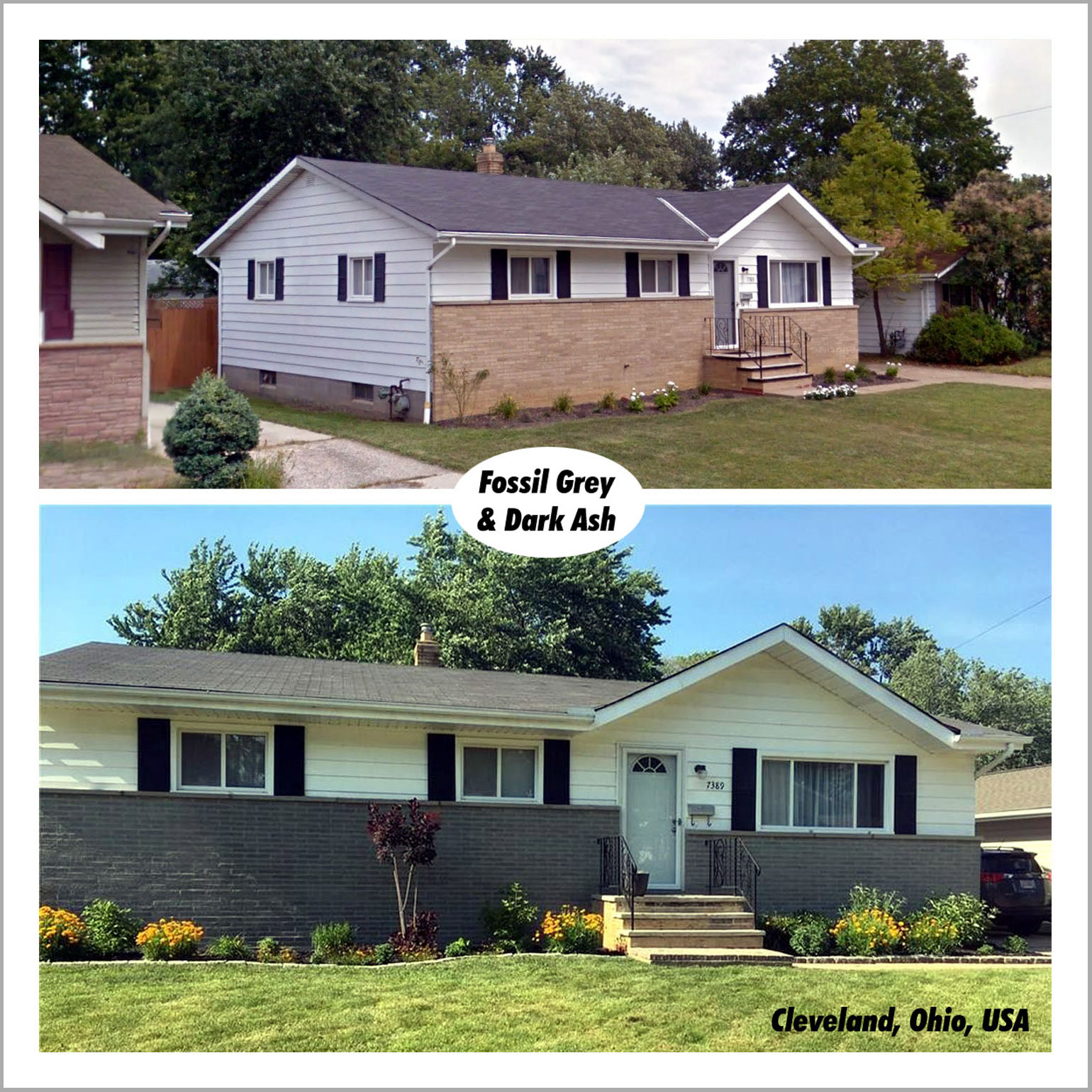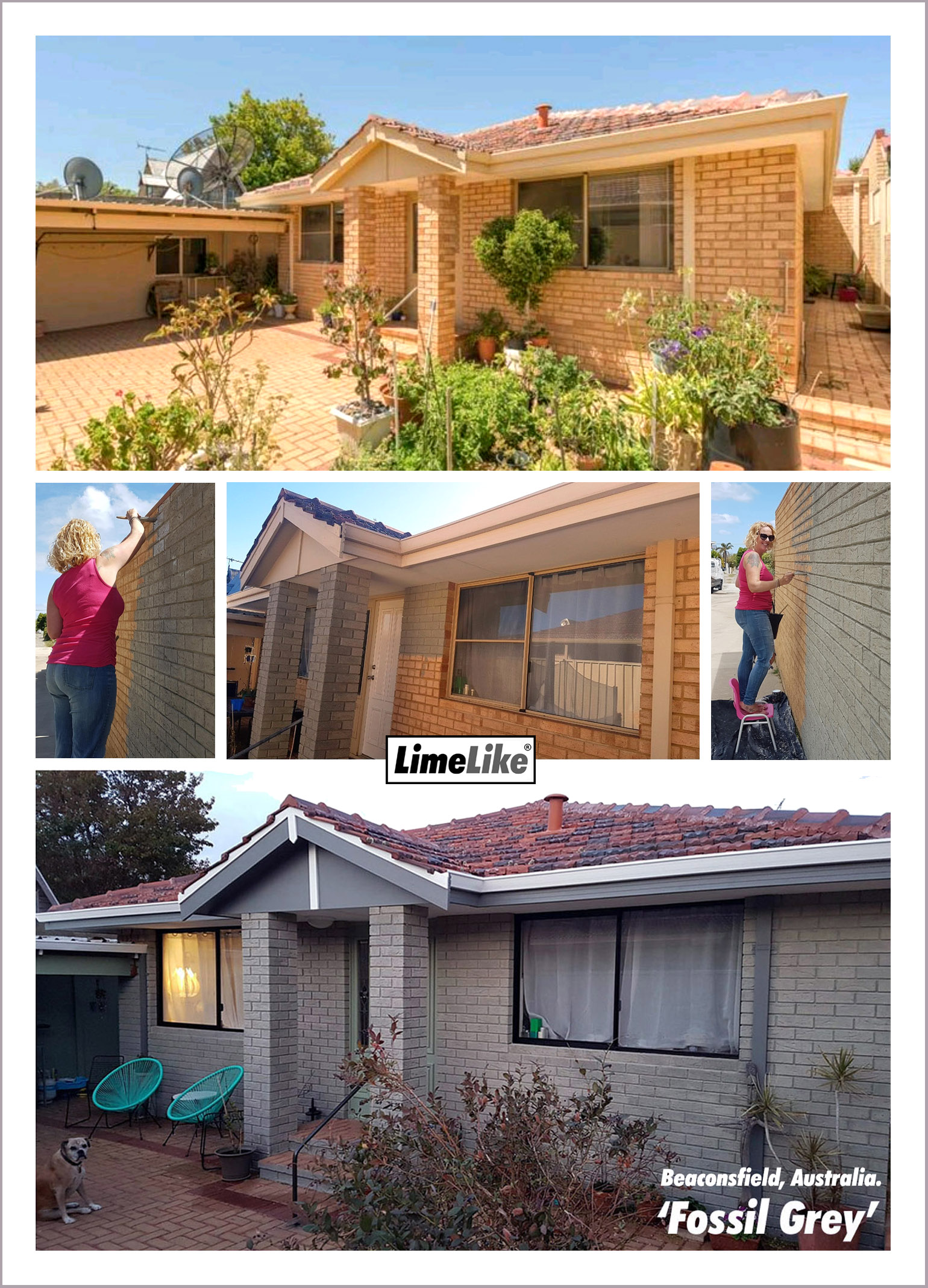 "This is our first home and we bought it in May (2018). It's a great location for us but was a bit ugly and not what I imagined I would be buying. I did a lot of research into the best way to paint bricks and found you guys in the UK.
I've been painting my house from blond brick to the fossil grey Lime Like. I've been very happy with your product and I'm slowly getting our house turned into something beautiful!"
Whitney, Beaconsfield, Melbourne, Australia.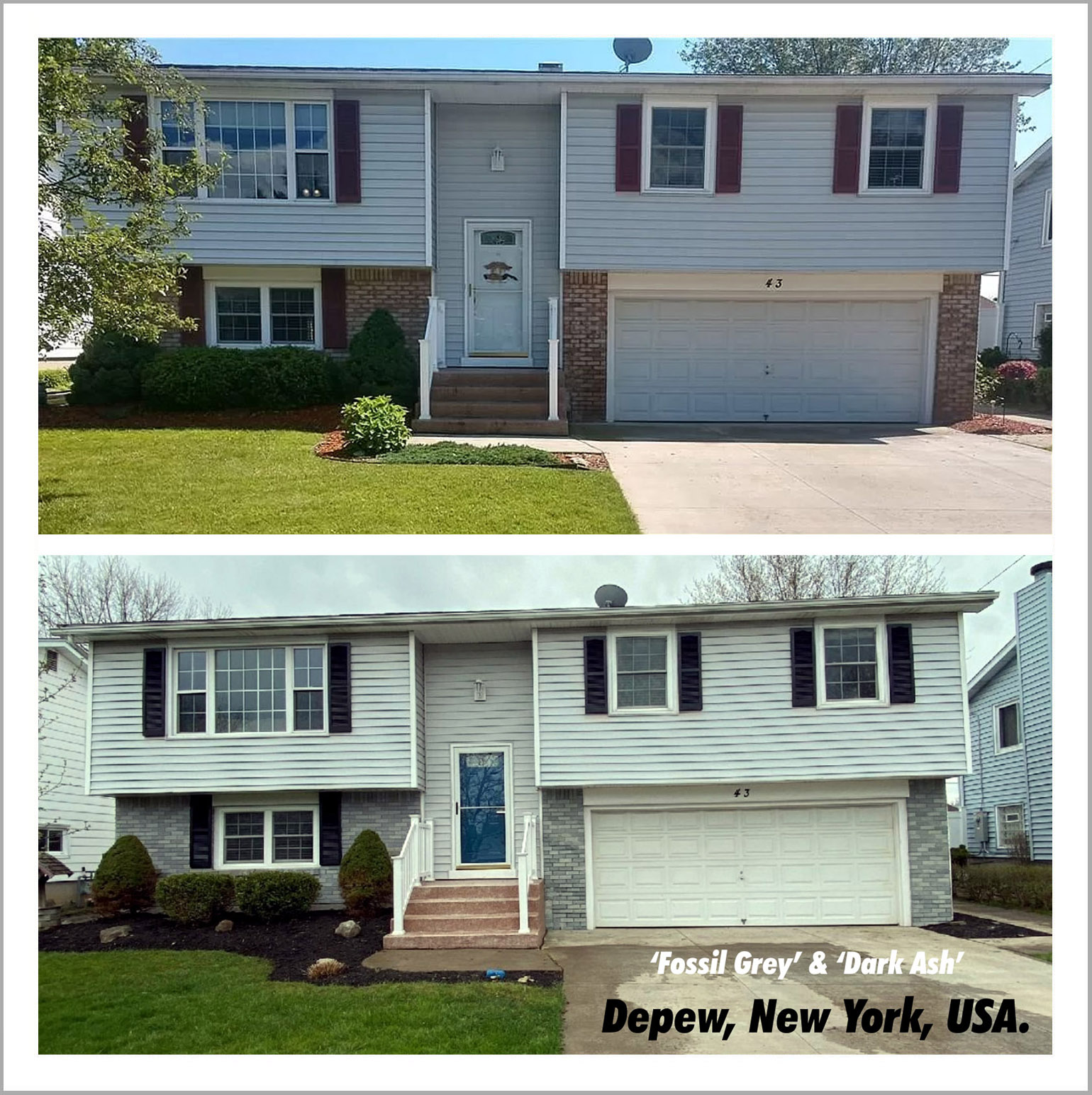 "If you ever want to change the color of your bricks without painting them, try LimeLike by DyeBrick in the UK. They have brick stain and amazing customer service. All their products let the bricks breathe so moisture doesn't get trapped inside. Check em out!!"
Jeff, Depew, New York, USA.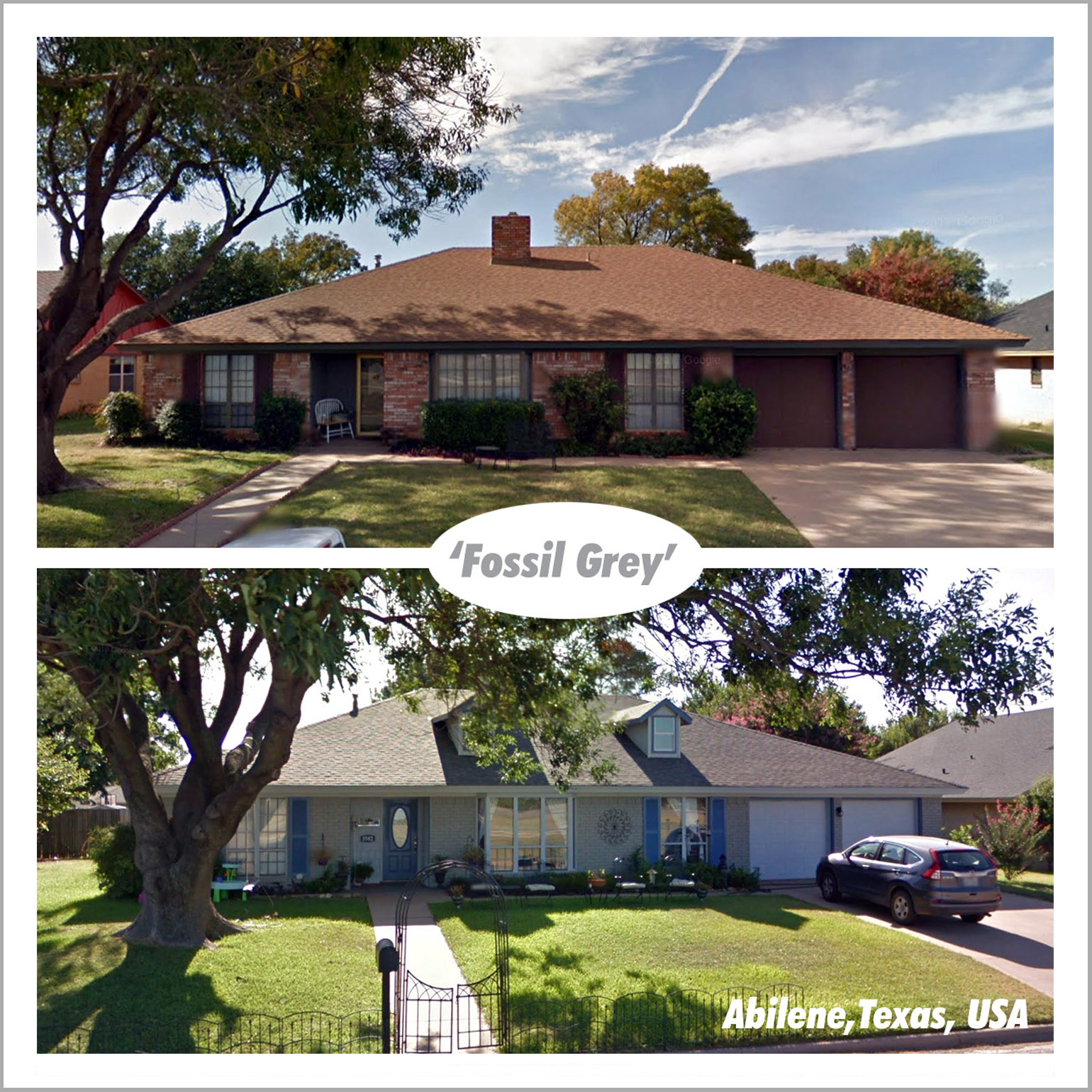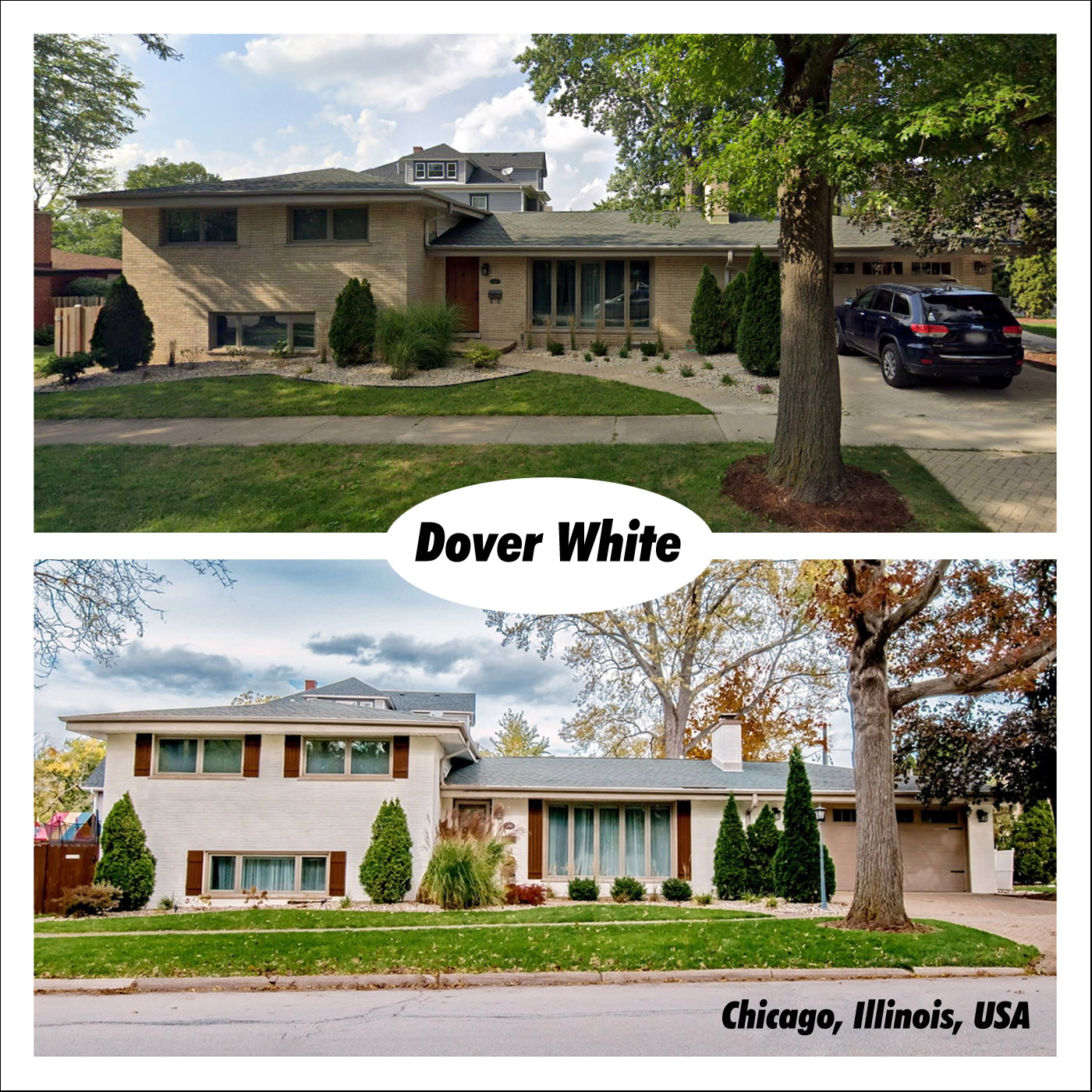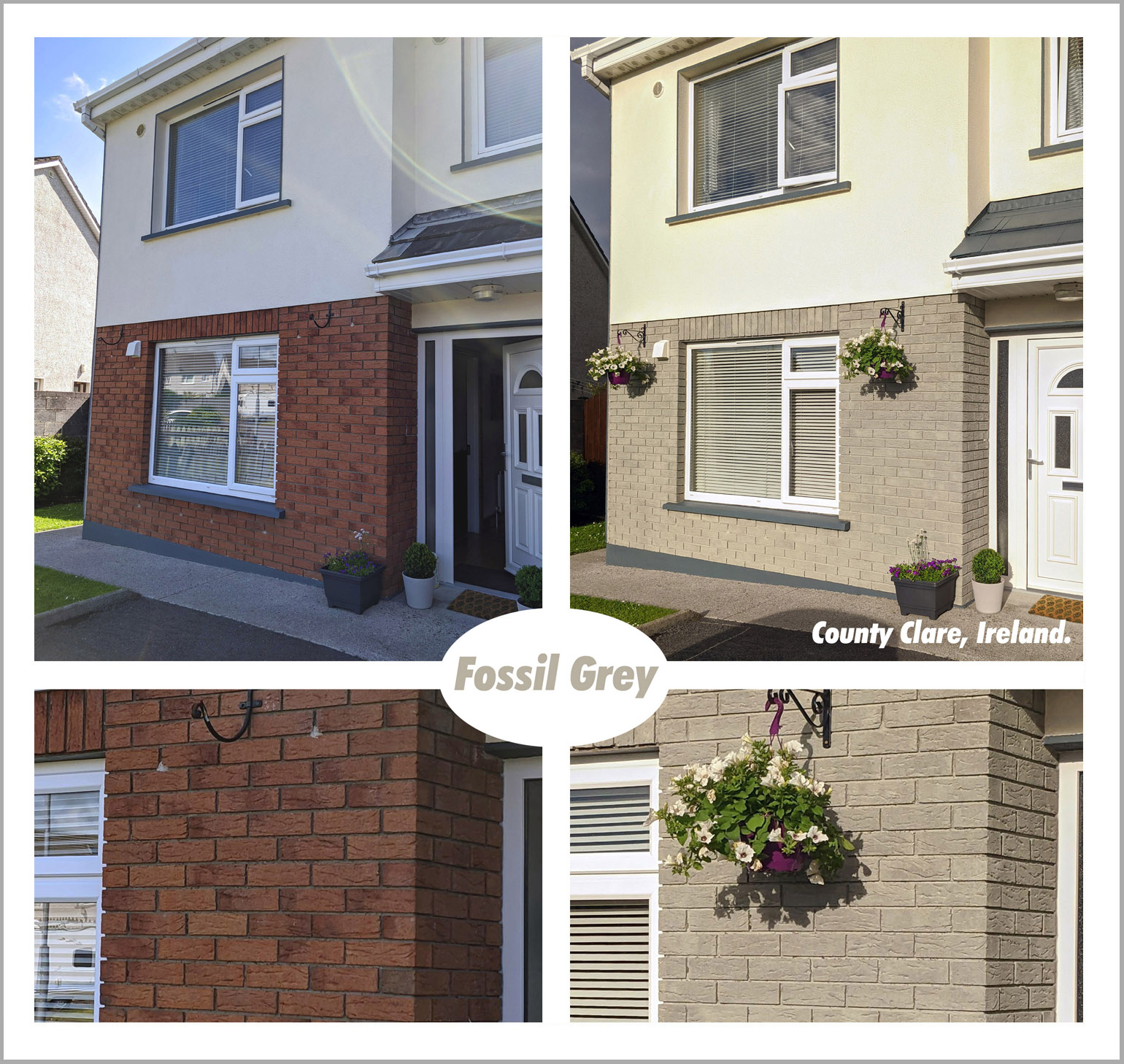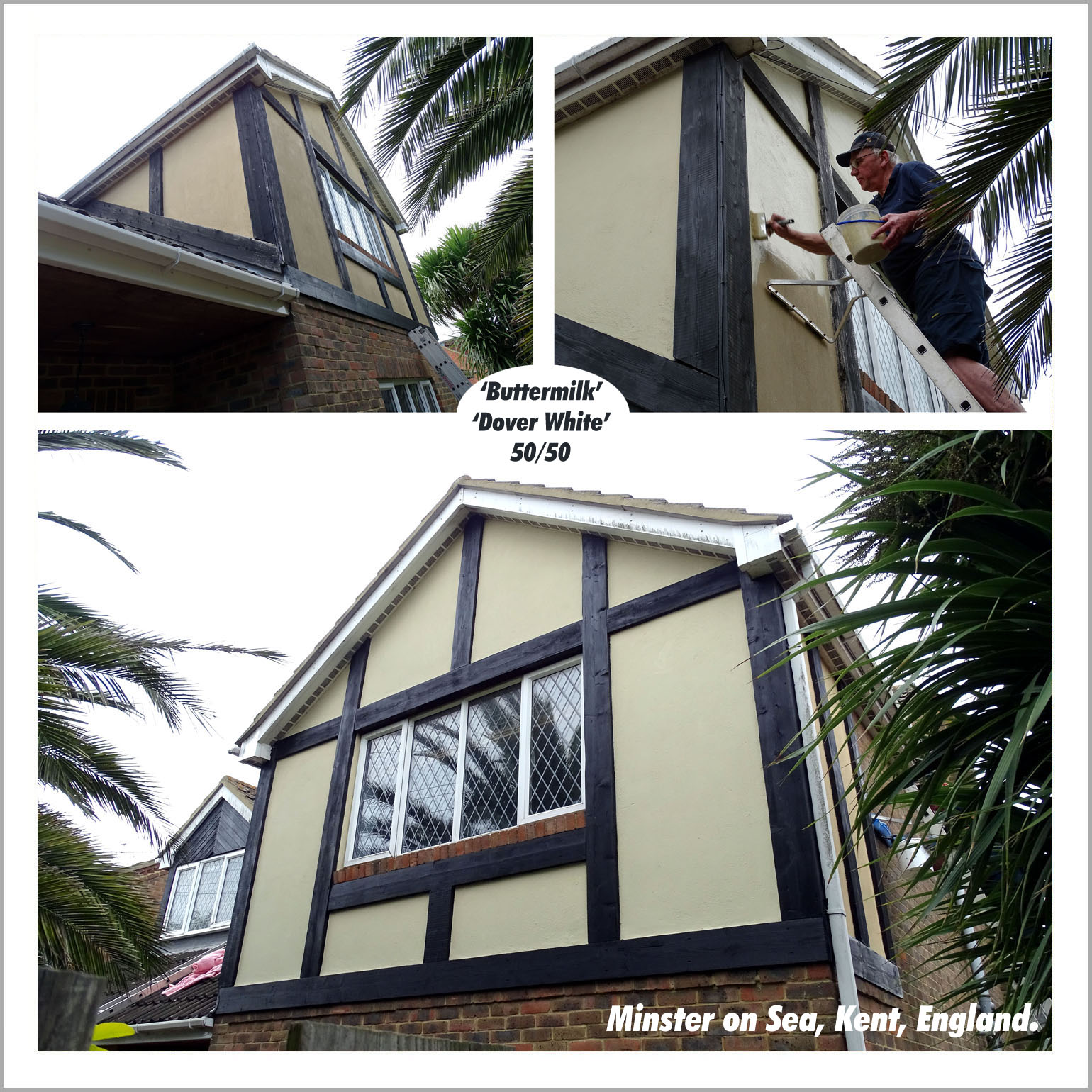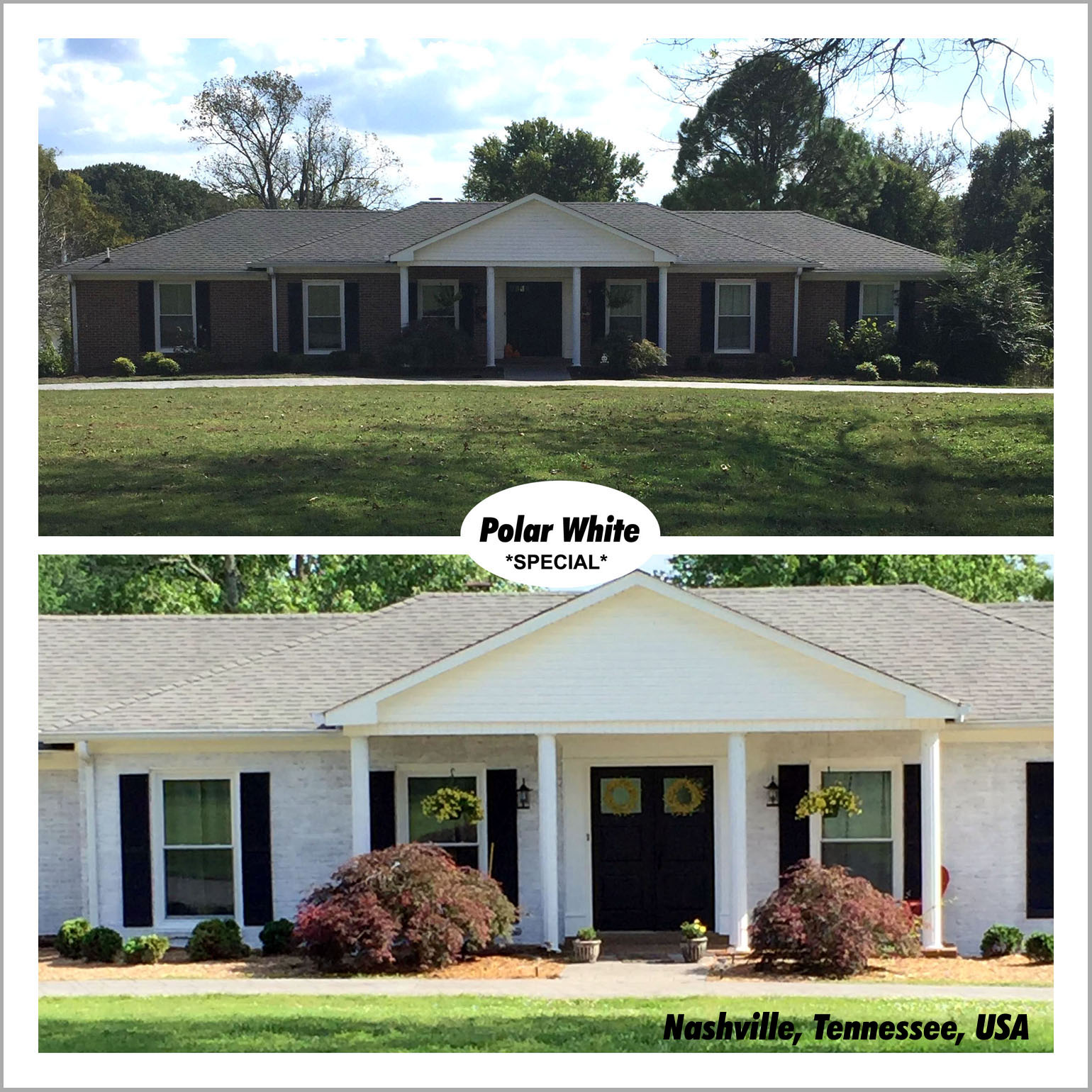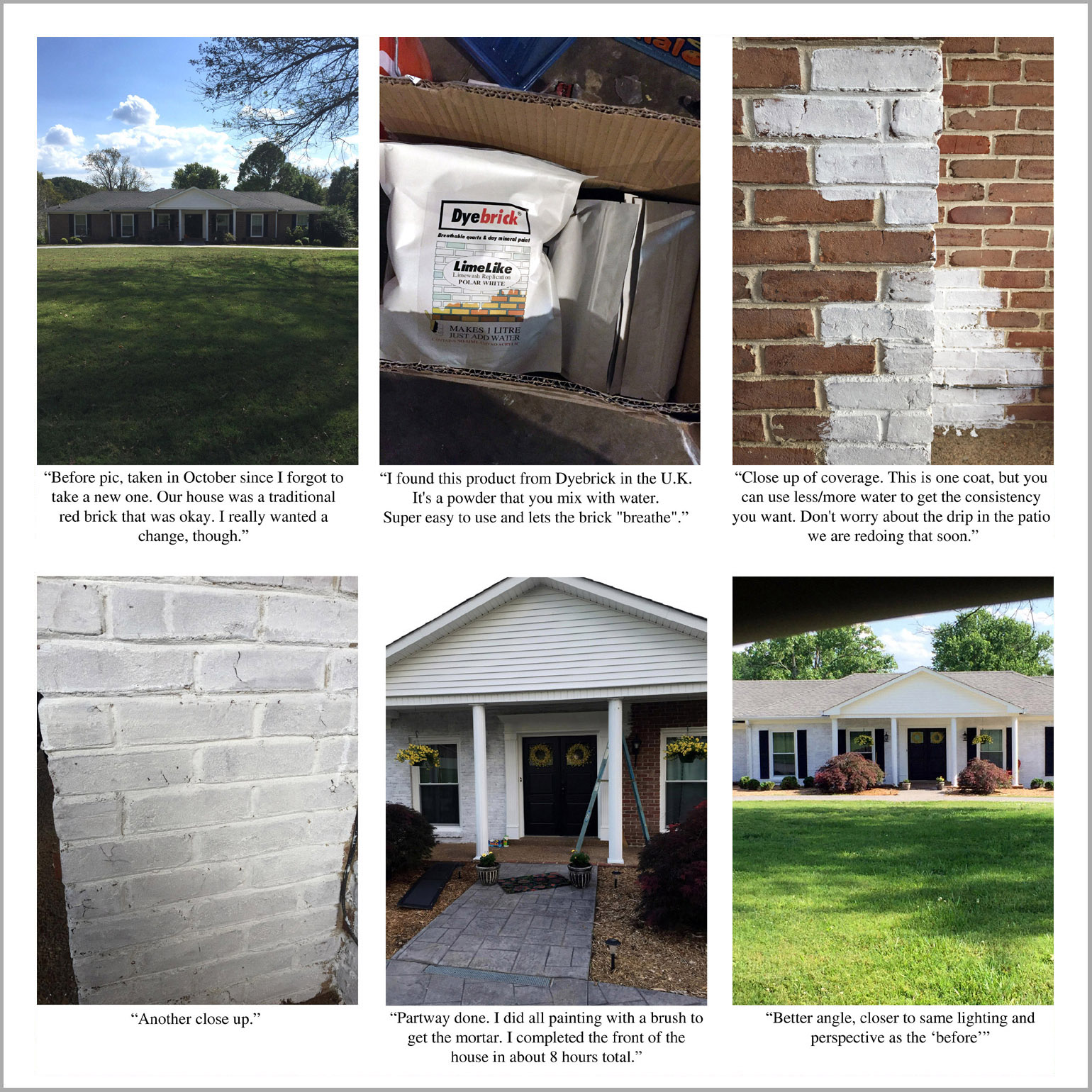 "We bought a red brick mid-century ranch 3 years ago and have been renovating it since. The outside was nice, but I wanted to up the curb appeal. I was originally going to paint the brick, but did some research and came across a product called Limelike from Dyebrick. It allows the brick to "breathe" unlike paint. It ships as powder in bags and you mix it with water, allowing you to control the dilution and coverage. I did some testing and liked the non-uniform look, so I added about 950ml of water per pack instead of the recommended 850ml for higher transparency. It dries within an hour and it's super easy. Covers quicker than paint and almost goof proof"!" Amanda, Nashville, Tennessee, USA.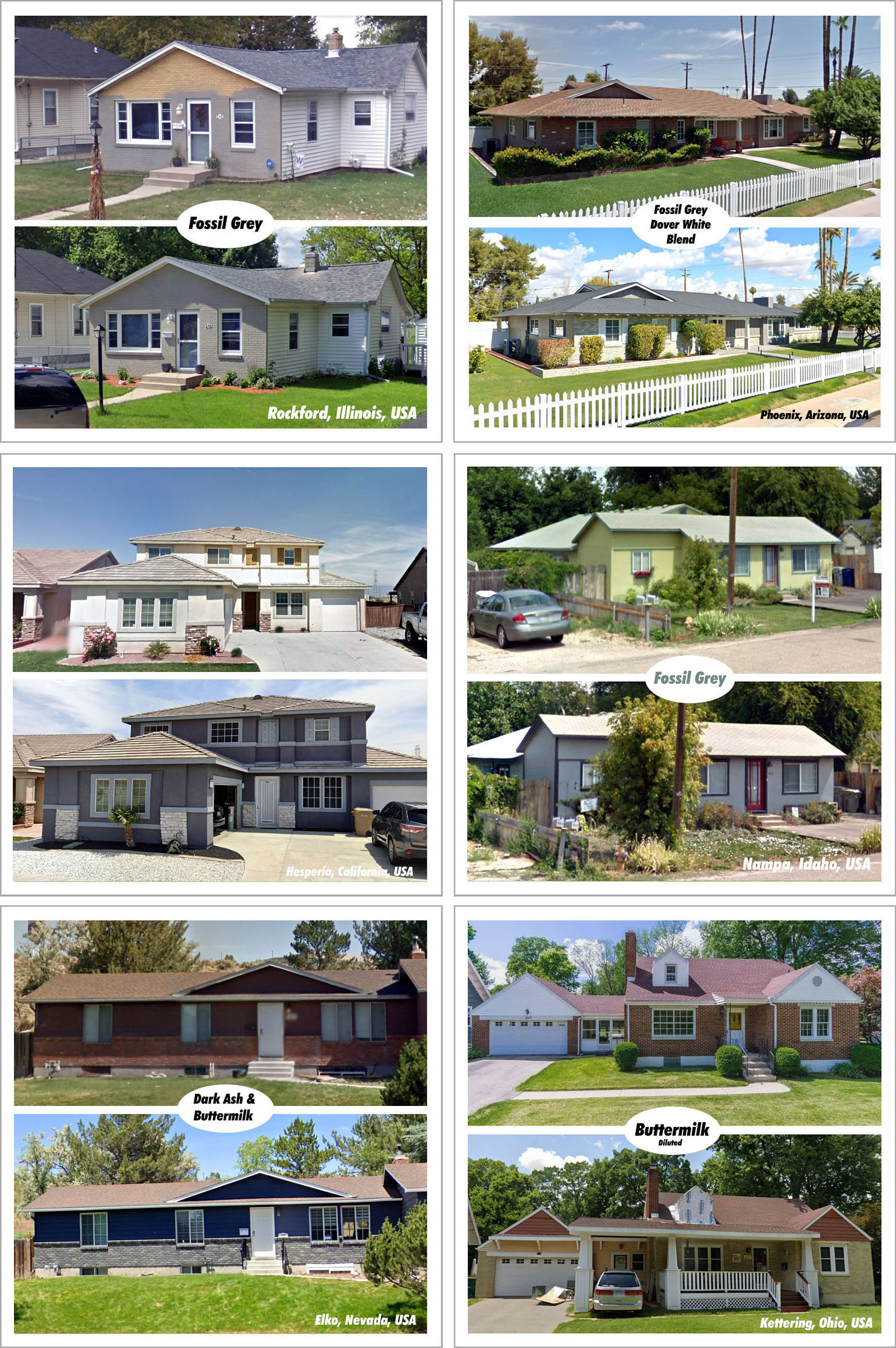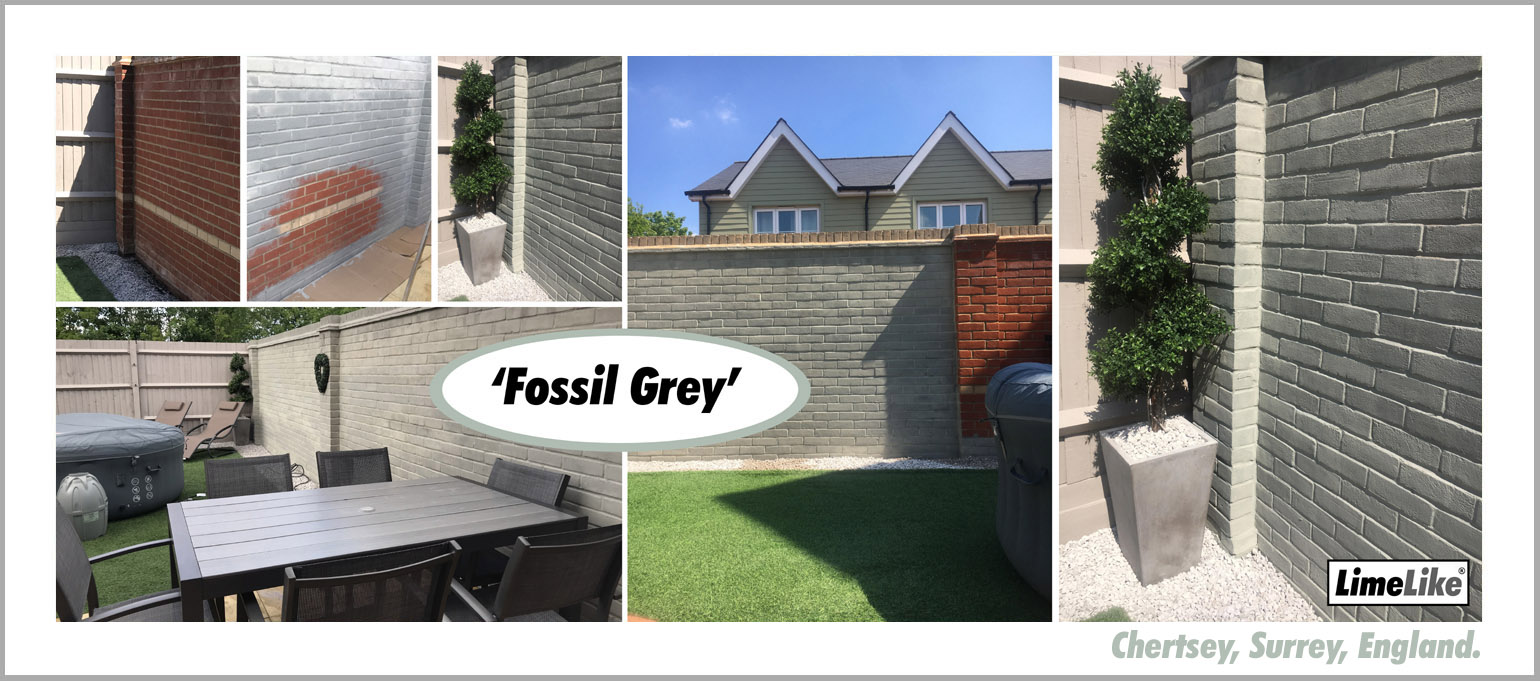 "What a fantastic product, easy to mix and apply, great colour, (Fossil Grey) and so reassuring to know it's not paint so our bricks can still breath nicely :) such helpful friendly staff too, thanks guys!"
Nina and Paul. Chertsey, Surrey.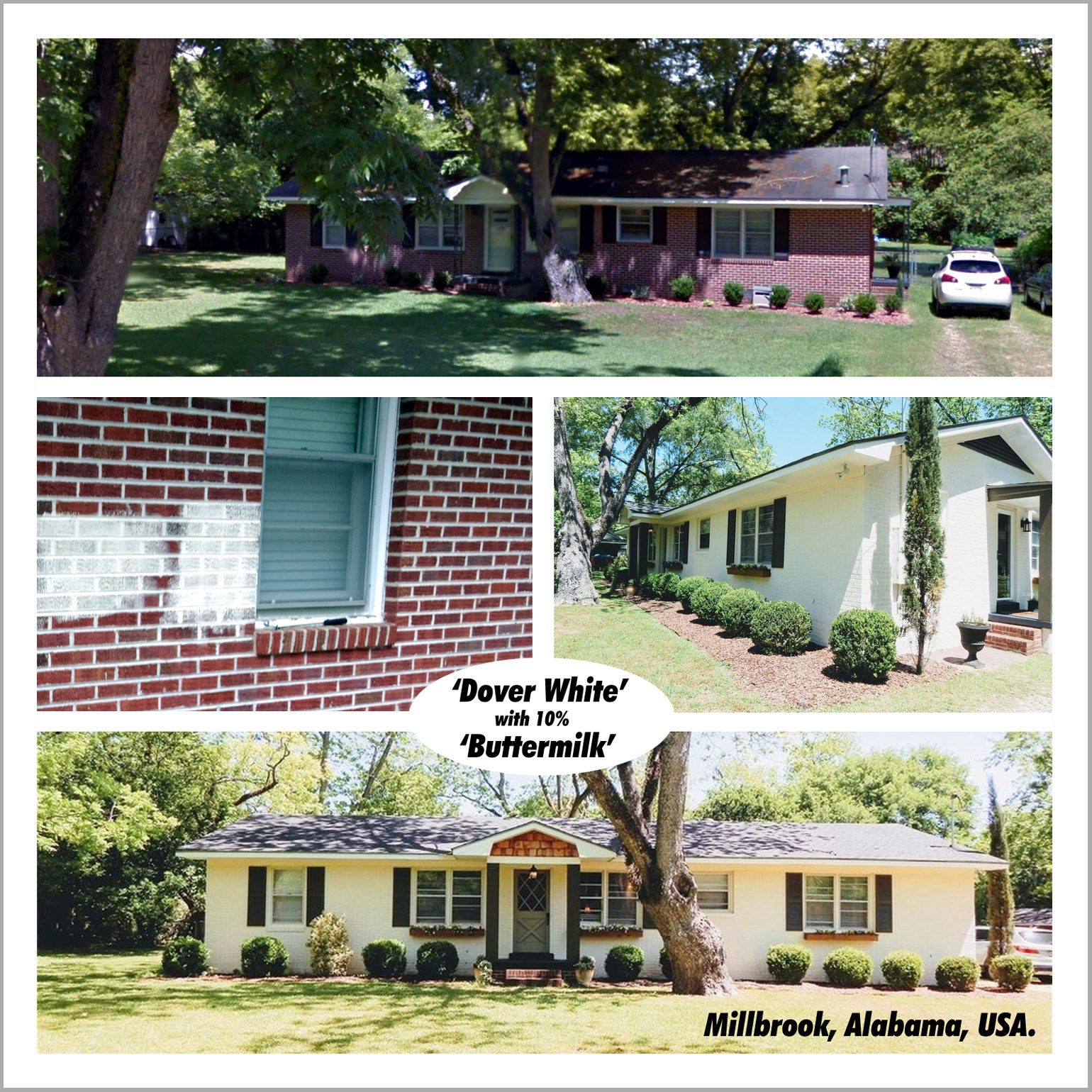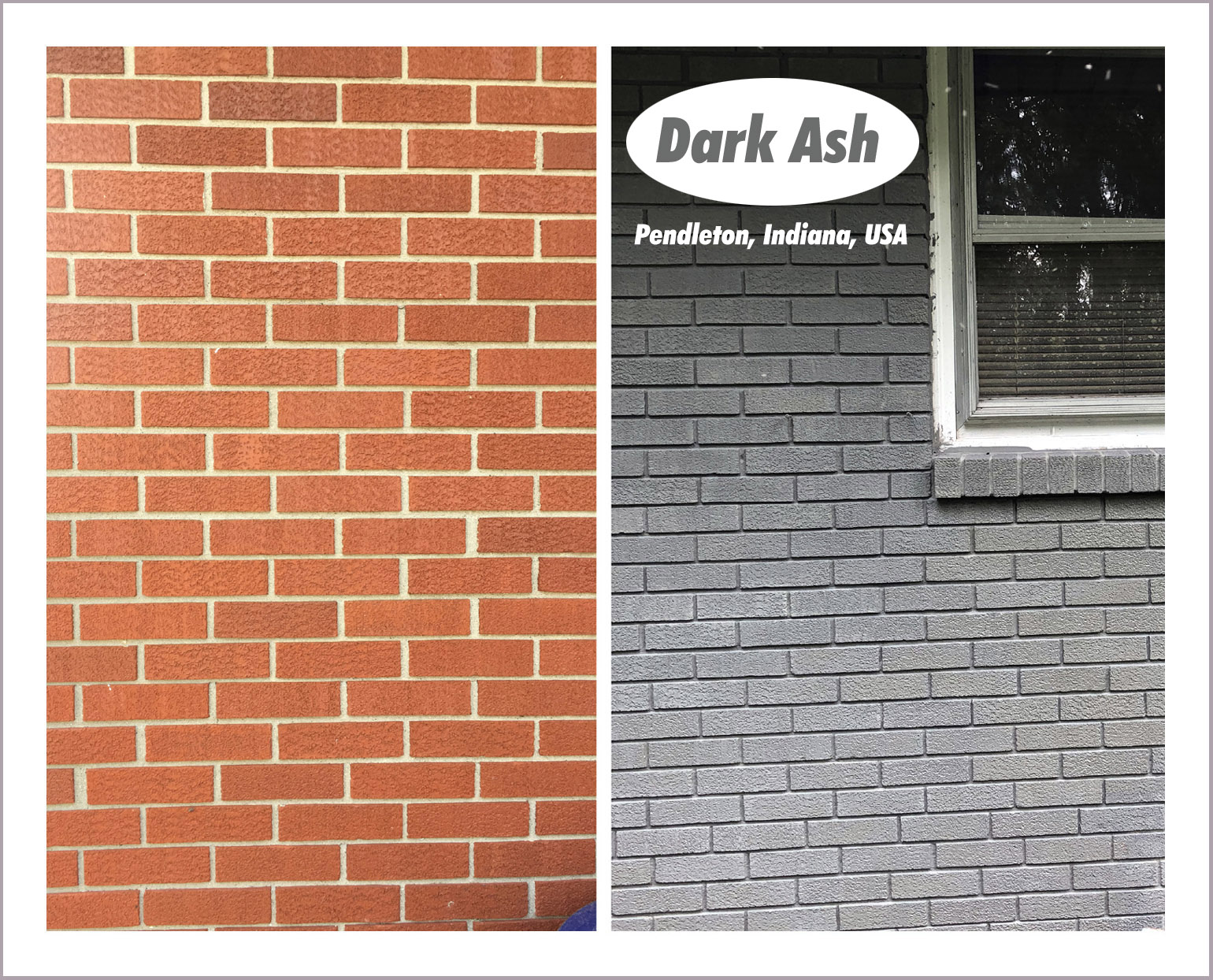 "Needed two coats to produce an even colour. I am loving the way my brick is looking now. Just what I had in mind, without the cons of painted brick.!"
Alyssa, Pendleton, Indiana, USA.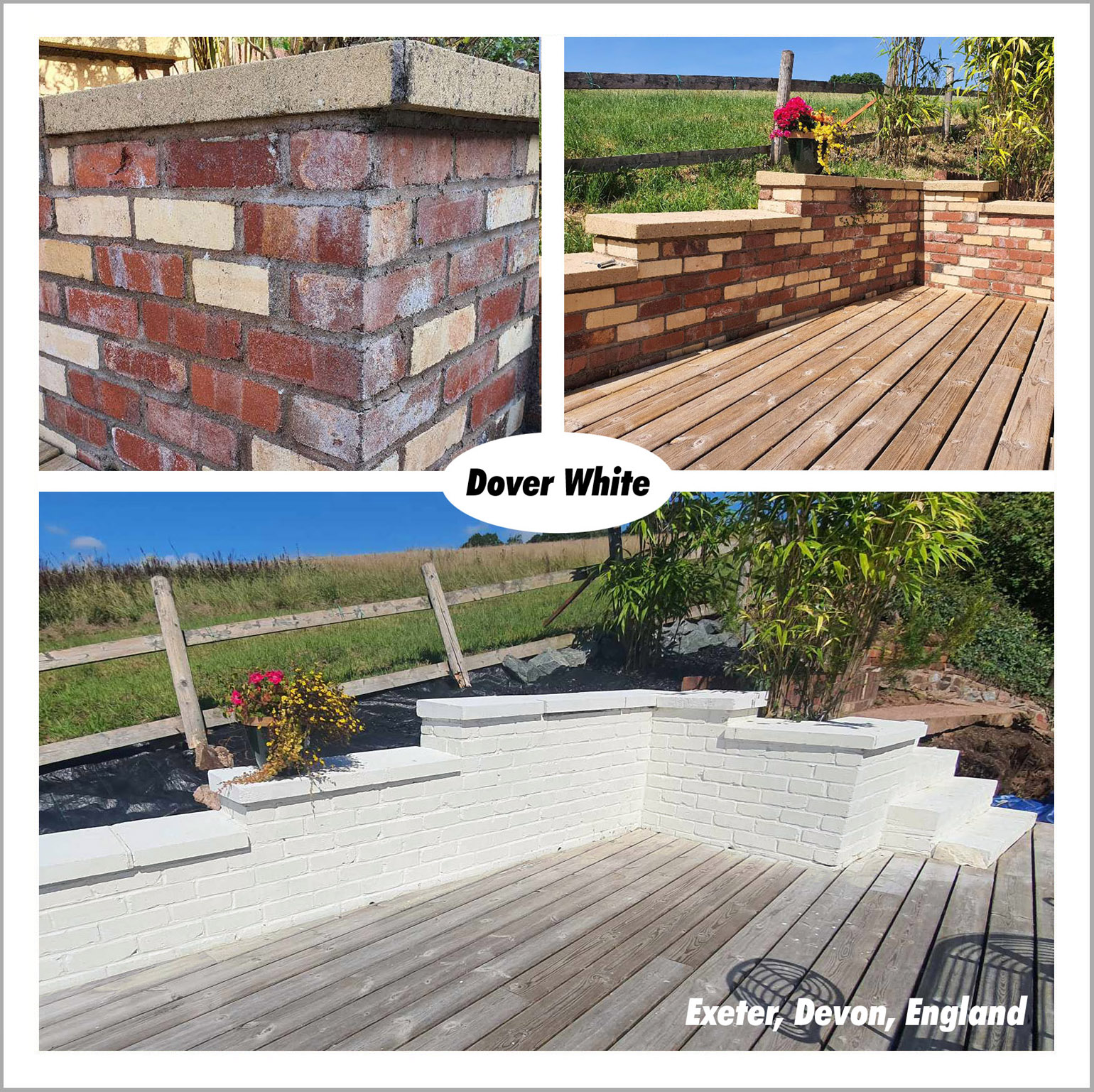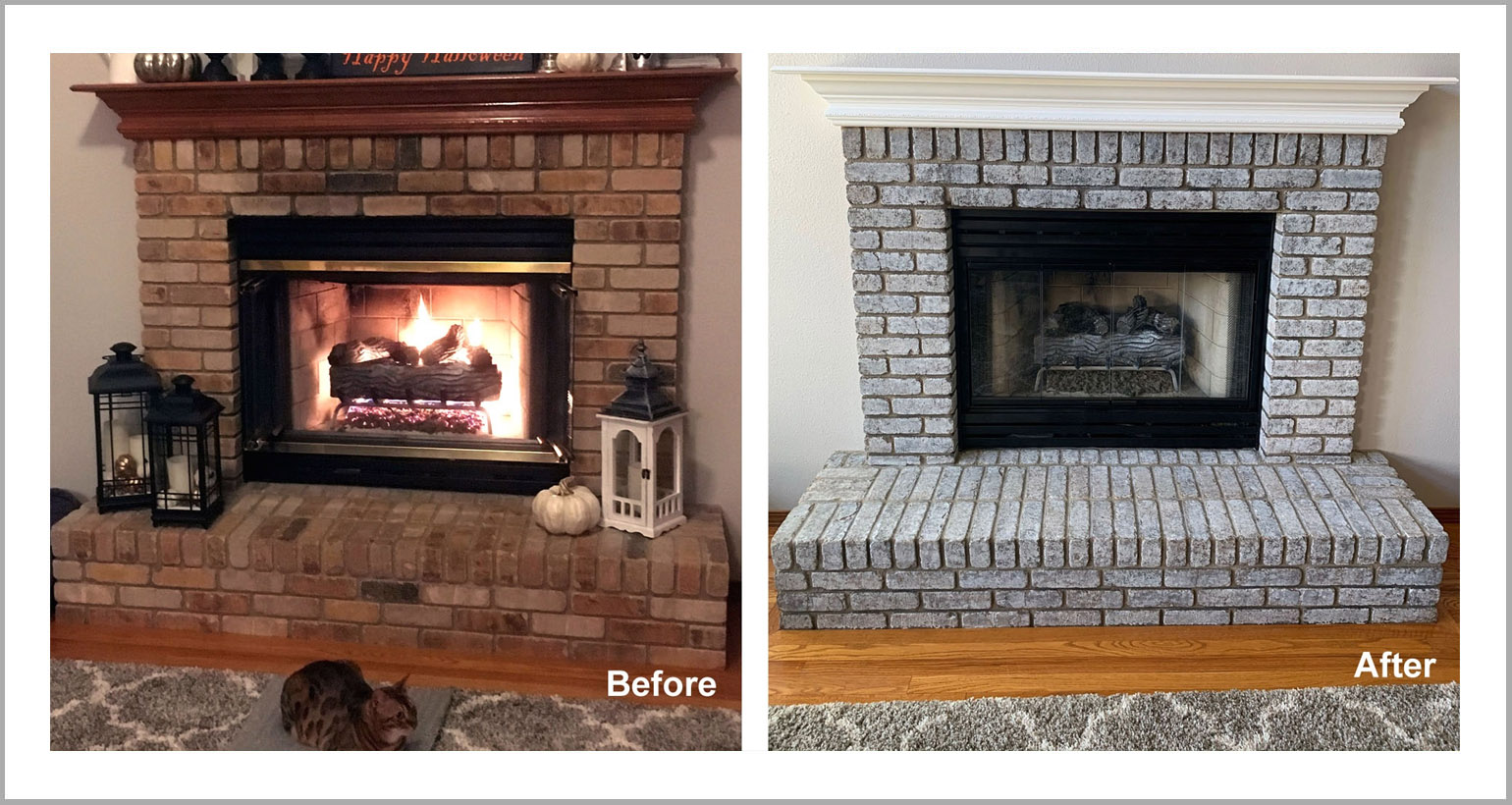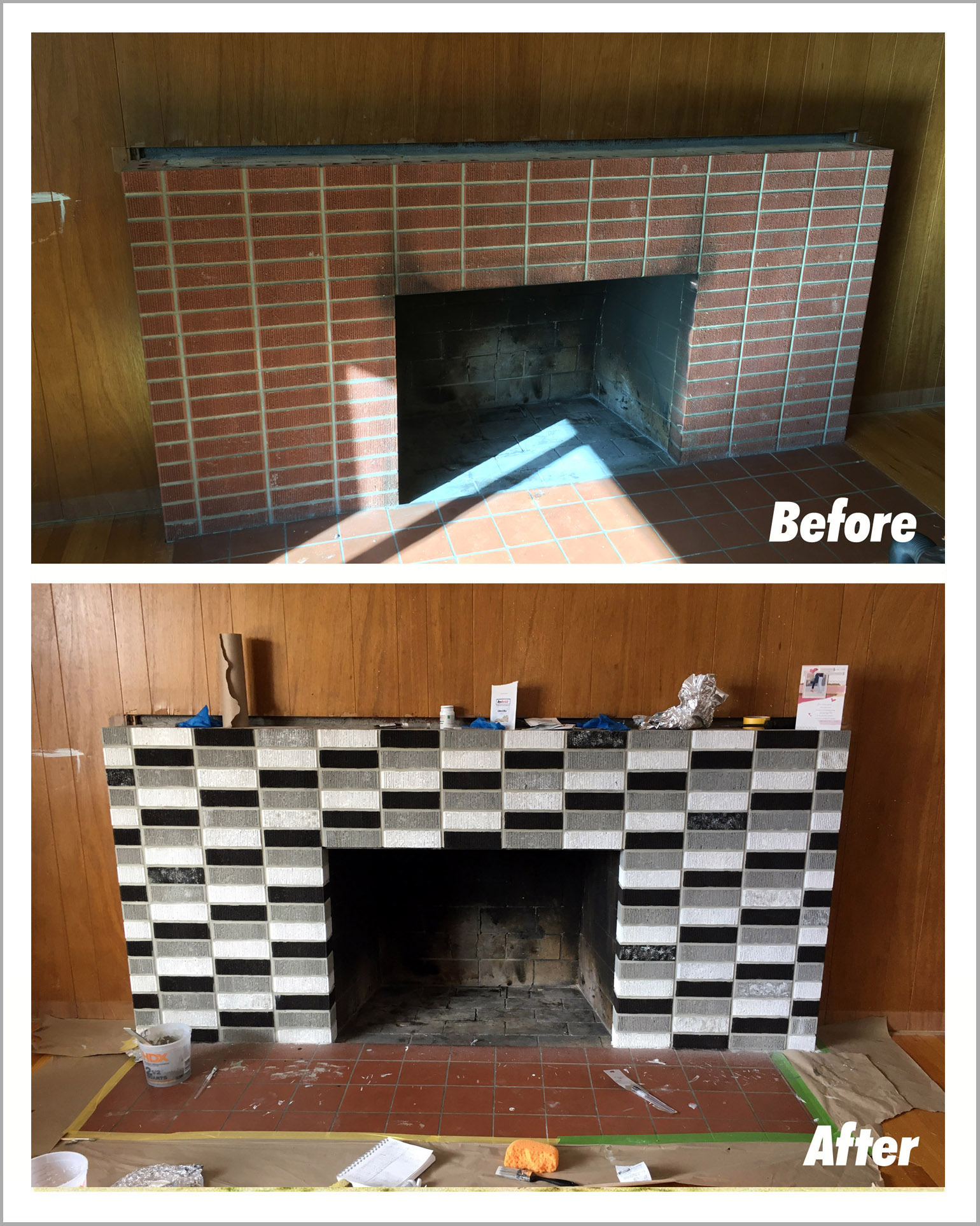 This was the fireplace we redid to test the product before moving to our outside brick. We love your product and appreciate all the help you guys have given during the process!!"
Matt and Anya, Denver, Colorado, USA.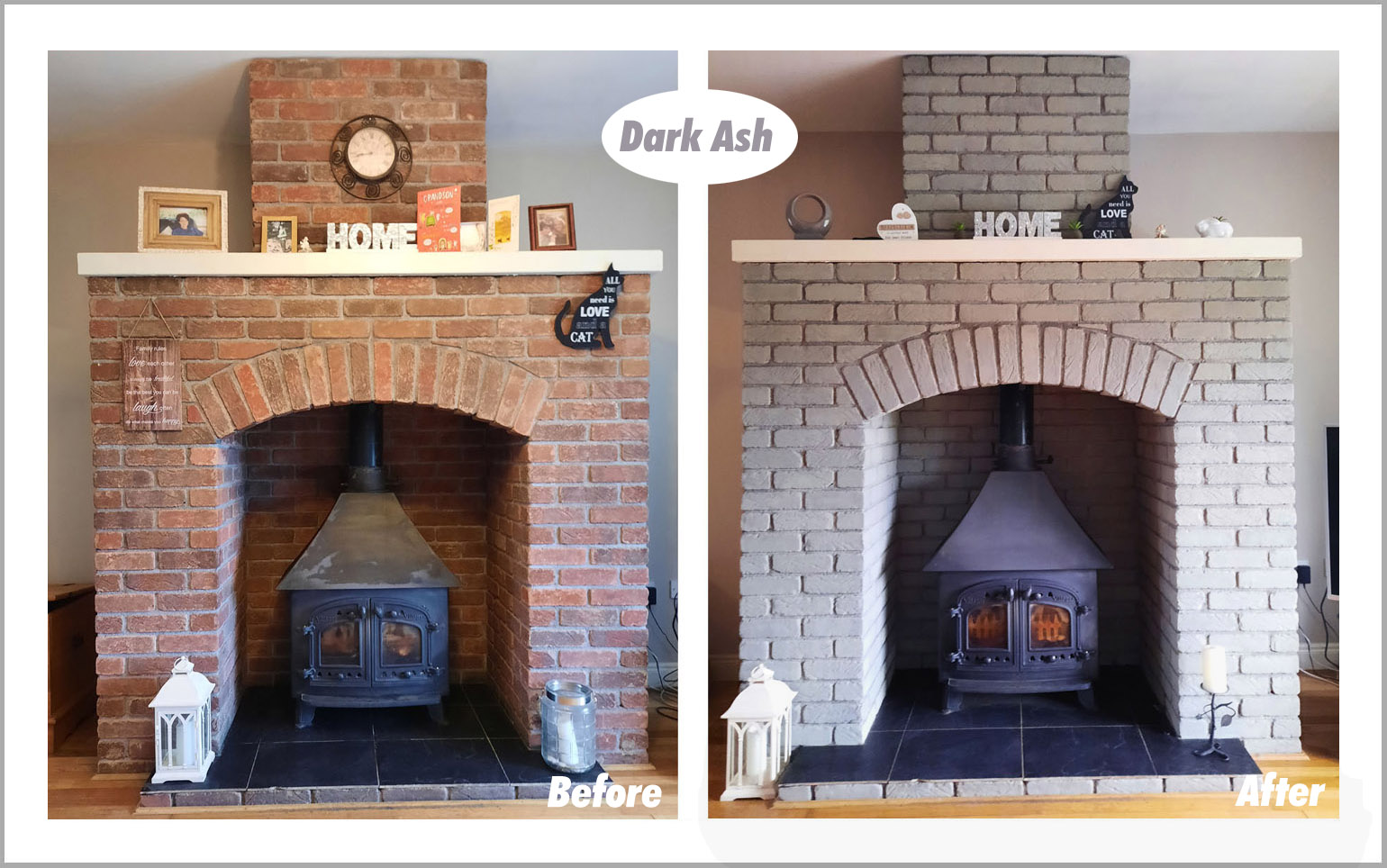 I just wanted to thank you very much for your Limelike and all your help. I am delighted with my fireplace. I have attached before and after photos for you to see. I am going to get a new oak mantle for it."
Veronica , Delvin, Ireland.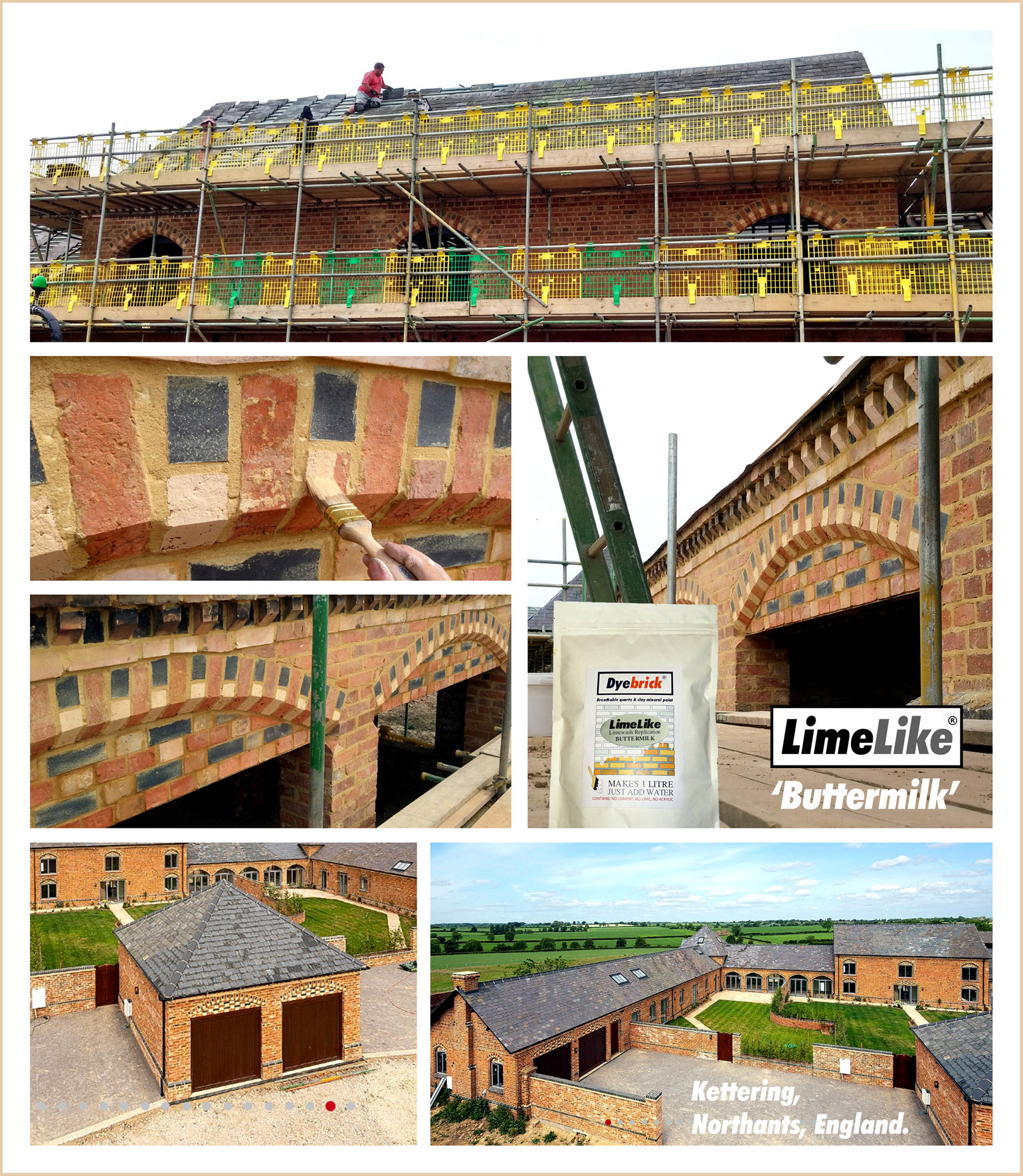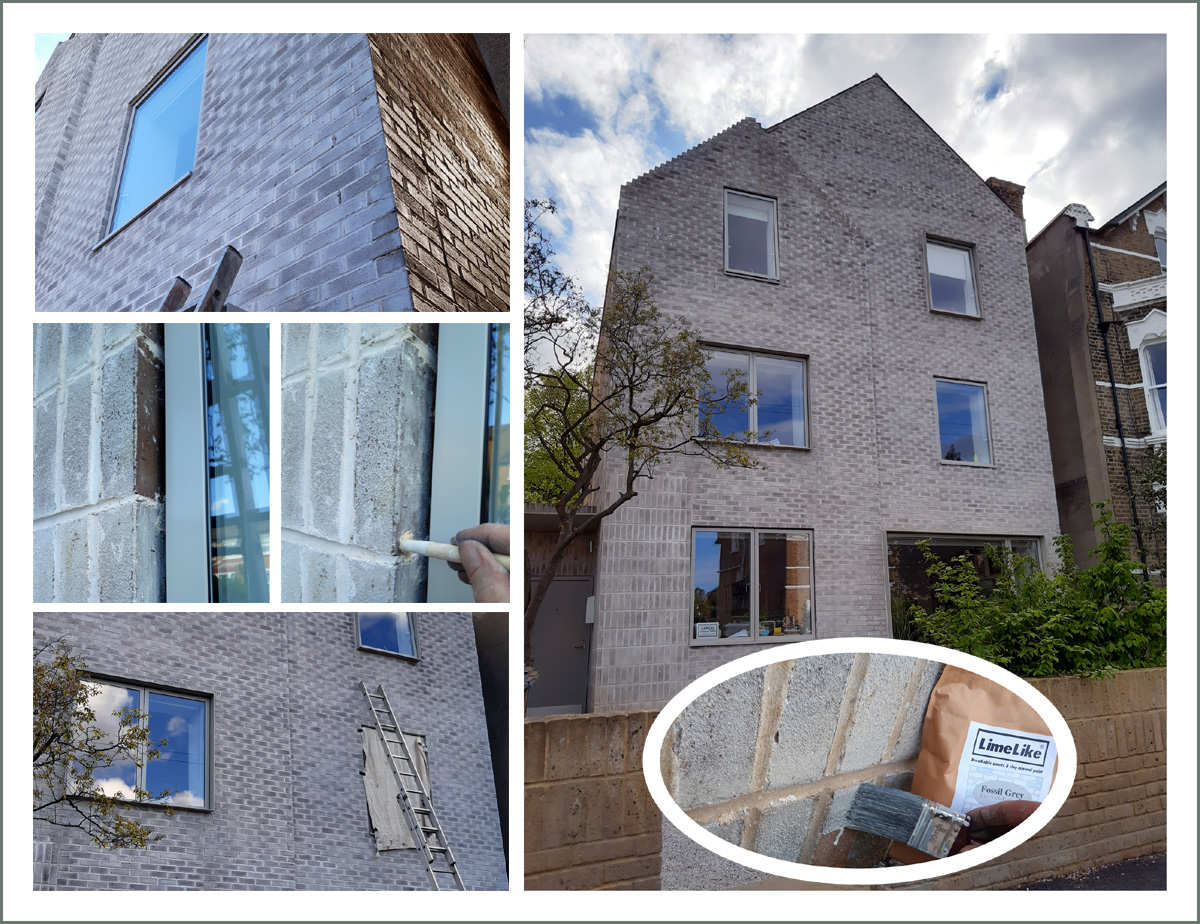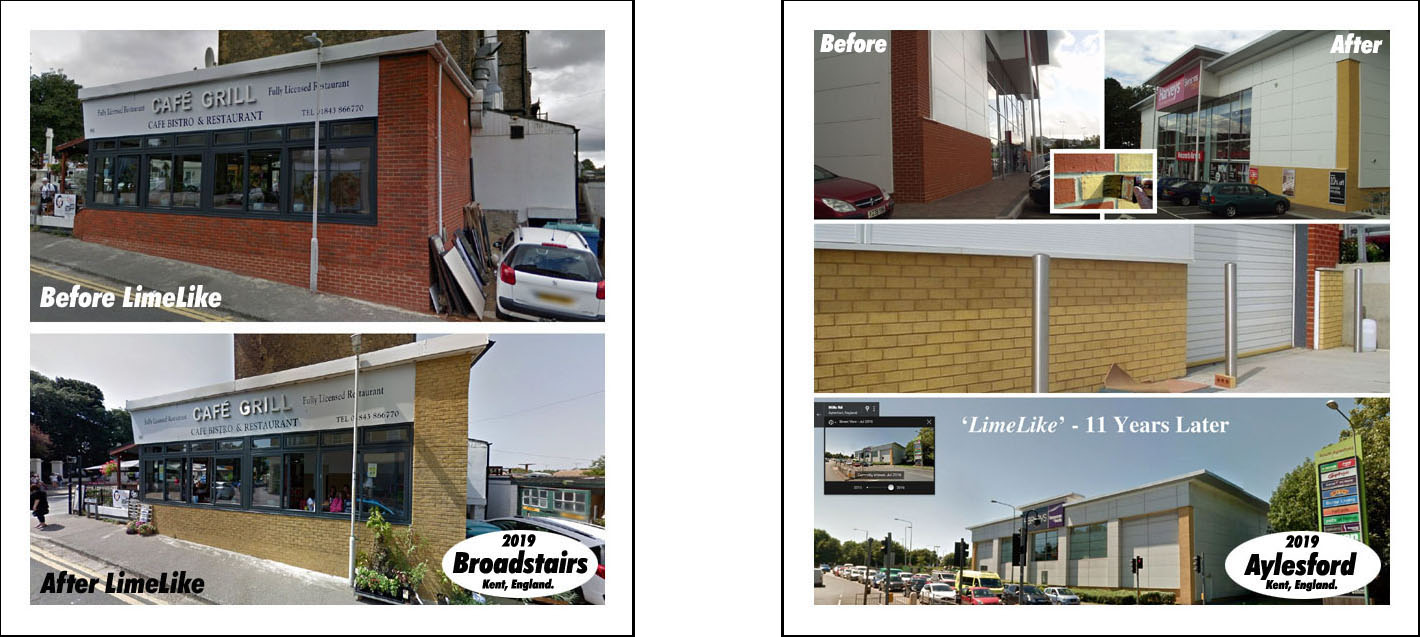 PLEASE CLICK ON IMAGES BELOW TO VIEW LARGER SIZES